Dir/scr: Whit Stillman. US. 2011. 99mins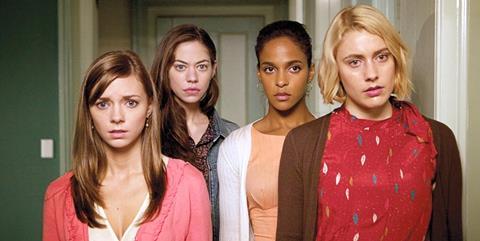 "Jane Austen meets Judd Apatow" is how Whit Stillman would like to think of his new romantic ensemble comedy, which centres on a group of smart, high-performing girls who try to bring a touch of class to a male-dominated East Coast college. Now that would have been a fun film to watch (actually it was - it was called Clueless). As it is we get another Whit Stillman movie: droll and precious, erudite and talky, occasionally hilarious but more often annoyingly mannered in its deliberately stilted dialogue, stiff TV-soap-style camerawork and editing rhythm, and frustratingly meandering script structure.
What holds Damsels In Distress back from being more than a droll curio is the way that its mannerisms and intellectual jokes freeze out any real empathy with its characters.
For all its longueurs and mannerisms, however, this bright and affable film does have a broader audience appeal than recent Stillman outings, and it also has the ever-watchable Greta Gerwig, former queen of no-budget mumblecore but increasingly bankable in more commercial arthouse fare (and soon to be seen in Woody Allen's Bop Decameron), in a role that brings out her knack for deadpan comedy.
Gerwig plays Violet, the unofficial leader of a room-sharing trio of motivated femmes at Seven Oaks college - a small, not-quite-Ivy-League establishment for underperforming rich kids somewhere in the East Coast WASP belt (the actual location was the heritage site of Snug Harbor on Staten Island, with its medley-of-Western-civilisation Greek Revival, Italianate and Victorian buildings set amidst leafy parkland).
Also comprising posh and rather pompous Afro-British Rose (Megalyn Echikunwoke) and petite, undemanding Heather (Carrie MacLemore), the group soon adopts a fourth member, sexy, independently-minded Lily (Tipton), who is the only one of four to stand up to Violet's well-meant bossiness, and to question her wearing stream of beautifully-expressed opinions about boyfriends (it's always best, she pontificates, to choose one who is "frankly inferior" - like her paramour Frank) and other topics.
Violet and her girls help out in the college's Suicide Prevention Center, where they hand out doughnuts to the depressed; they take classes on the literature of perfumed decadence and hold their noses when frat boys with their "awful acrid odour" walk by. Mostly, though, they talk a lot, in perfectly-formed sentences.
Each time a character speaks, we cut to focus on him or her, unless it's a walk-and-talk medium shot, in which case the camera pans boringly along with the group as Violet sounds off and the others wonder what to do with their hands.
Divided into chapters with names like 'The Algebra of Love', the film has some priceless comic conceits - making sexy French student Xavier (Becker) a Cathar, for example, with odd ideas about intercourse, and the perverse habit of celebrating the Sabbath on a Tuesday; or dim rich kid Thor (Magnussen), who refuses to let clever girls humiliate him just because they've learned what colours things are and he hasn't quite got the hang of it yet - having skipped that crucial year in junior school.
What holds Damsels In Distress back from being more than a droll curio is the way that its mannerisms and intellectual jokes freeze out any real empathy with its characters. Accompanied by a muzak-style easy listening soundtrack that is presumably meant to be ironic, and wrapped by a couple of musical numbers that are pleasant enough, this fitfully funny Phi Beta Kappa divertissement is not so much Jane Austen meets Judd Apatow as a poor man's Oscar Wilde meets a preppy, co-ed St Trinian's.



Production companies: Westerly Films, Castle Rock Entertainment
International sales: Sony Pictures Releasing, www.spe.sony.com
Producers: Whit Stillman, Martin Shafer, Liz Glotzer
Cinematography: Doug Emmett
Editor: Andrew Hafitz
Production designer: Elizabeth J. Jones
Music: Mark Suozzo, Adam Schlesinger
Main cast: Greta Gerwig, Analeigh Tipton, Adam Brody, Megalyn Echikunwoke, Carrie MacLemore, Hugo Becker, Ryan Metcalf, Billy Magnussen