Dir/scr: Rodrigo Aragao. Brazil. 2013. 99mins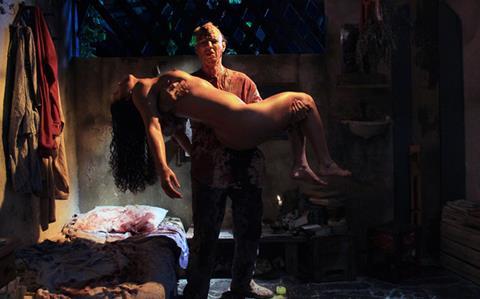 A freewheelingly gory horror film that packs in zombies, mutant sea-monsters, satanic rituals, a mysterious albino and even a machine-gun toting transvestite, Rodrigo Aragao's Brazilian film Dark Sea (Mar Negro) its nuts and bloody enough to break into the horror circuit, and should be a fixture on midnight movie slots at genre festivals.
Dark Sea is a crazy and crazed horror film.
The film, which had its premiere at the Rio International Film Festival throws plot and logic out of the window as its descends into lavish bloodletting, but it is a deliriously daft genre journey and multi-hyphenate Rodrigo Aragao (writer, director, editor and effects guru) keep the film breezy and bloody.
When two fishermen come across a nasty mutated man-fish when out at sea they end up bringing a nasty back their village. An albino (Walderrama dos Santos) – only ever called 'Albino' or 'White' – who works in the kitchen at Otto's Bar has taken a shine to Indiara (Kika Oliviera, also a producer), the wife of one of the fishermen named Snapper, and when Snapper starts to lust for human blood he wants to try and save her.
Things really take off when Indiara takes a part-time job at the kitchen of a newly opened brothel (or 'club' as it is called) run by transvestite Madam Ursula (Cristian Verardi). Mutant zombie creatures take over the place and start munching anyone in their way, with Ursula eventually flinging off his/her wig and whipping out the biggest gun around to start blasting away. Not happy about the club being ruined whatsoever.
The film spirals into sheer blood-lust craziness as Albino tries to save Indiara, but also reveals he knows far more than he appears. Especially when he is attacked by a man who is searching for the notorious 'Lost Book of Cipriano'. Cue a magic ritual, the arrival of a horned creature and more zombie action as Indiara's daughter struggles to survive the monster mayhem.
Dark Sea is a crazy and crazed horror film…an old-fashioned B-Movie affair that may make little sense, but as a gore splattered creature feature it ticks pretty much all of the right boxes.
Production company/contact: Fabulas Negras Producoes Artisticas Ltda., www.fabulasnegras.com
Producers: Kika Oliviera, Mayra Alarcon
Executive producer: Hermann Pidner
Cinematography: Marcelo Castanheira
Editor: Rodrigo Aragao
Music: Joao Macdowell
Main cast: Walderrama dos Santos, Tiago Ferri, Kika Oliviera, Mayra Alarcon, Carol Aragao