Dir: Valerie Donzelli. France. 2011. 100mins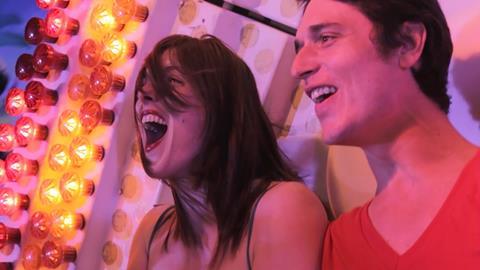 It sounds like a crazy risk: to make a film about a young couple whose baby is diagnosed as suffering from a brain tumour - and to make it funny and romantic, with musical interludes, so that it plays like something Jacques Demy and Francois Truffaut might have cooked up together. But actor-director Valerie Donzelli's second film after the micro-budgeted romantic comedy The Queen Of Hearts is a joy to watch.
Declaration Of War is nevertheless a life-enhancing title with universal audience appeal.
Shot with heart-on-sleeve enthusiasm and running on instinct, Declaration Of War (La Guerre est Declaree) has its uneven moments, but few viewers will fail to be moved and charmed by the tale of a couple energised and (at least briefly) united by every parent's worst nightmare.
French to the marrow in its settings, songs, cute lovers and peppy insouciance, Declaration Of War is nevertheless a life-enhancing title with universal audience appeal - though with its tough subject matter, its indie feel and the language barrier, its most obvious home outside of France is urban arthouse cinemas. The film opened this year's Cannes Critic's Week section, and the rapturous reception it received bodes well for its August 31 national release.
By then, informed French cinemagoers will probably have read or heard that the story is partly autobiographical, based on the real life illness of the son Donzelli and her co-star and co-writer Jeremie Elkaim had together. But this is nowhere mentioned in the film, which stands up on its own terms. We open in New Wave rom-com mode, with Juliette (Donzelli) meeting Romeo (Elkaim) at a party ("you've got to be kidding", she says when he tells her his name).
It's a classic coup de foudre: they run off together, literally, jogging through Paris in a snappily-edited montage sequence, setting a breakneck pace which hardly lets up until the ninety-minute mark. Costumes, jaunty music (some of it in a retro sixties style that recalls Michel Legrand) and the smiling performances of the two leads seem to set the comic-romantic tone, but things turn dark when the couple's baby, Adam, starts vomiting 'spectacularly', as his father tells the doctors - and soon, after the CT and MRI scans come through, they're told he has a brain tumour which may or may not be malignant.
Though there is a brief period-placing reference to the invasion of Iraq, it's clear that the film's title refers to the ultimatum that their baby's illness delivers to a couple who up to now have lived for the day, muddling through with each other and their child like so many comfortable bohemians.
It's their determination to react, to fight back with good humour and an energy that comes out physically in their constant movement across France (from Paris to Marseille and back in search of treatment) and within each shot, that gives Declaration Of War its verve and drive. Solidarity and support comes from family, friends, and a cast of public-hospital doctors and nurses (some played by actors, others for real) who for once are cast almost universally as the good guys.
We're gunning for the protagonists so much that we even take on board a split-screen musical number, like something cheesy Serge Gainsbourg might have done in the mid-seventies, in which they declare their love. Other retro effects include iris fades, slow-mo sequences and third-party voice-overs that fast-forward us through the narrative. The soundtrack is equally eclectic, ranging from Vivaldi and Offenbach to Ennio Morricone and Laurie Anderson: but such is the brio of this heartwarming film that the free-ranging musical mix never jars.

Production company: Rectangle Productions
International sales: Wild Bunch, www.wildbunch.biz
Producer: Edouard Weil
Screenplay: Valerie Donzelli, Jeremie Elkaim
Cinematography: Sebastien Buchmann
Production designer: Gaelle Usandivaras
Editor: Pauline Gaillard
Main cast: Valerie Donzelli, Jeremie Elkaim, Cesar Desseix, Gabriel Elkaim