Dir/scr: Benoit Jacquot. France-Germany. 2010. 102min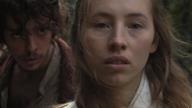 Deep In The Woods is a strange choice for the opening of this year's Locarno festival. Benoit Jacquot, one of France's leading directors, indulged here in his favorite past time, plunging into the darker recesses of female sexuality, and splashed his findings in graphic detail all over the giant Piazza Grande screen, in front of a largely family-oriented audience of several thousand viewers. Not an easy proposition at any time, eliciting in this case a predictably low-key response.
Never sufficiently enticing to emotionally draw the audience's attention, its forced intensity may seem relatively tame for the younger set but risks putting off older audiences.
A much better fit for small art houses, with its pseudo-hypnotic scenes and rustic sets, Jacquot's screen adaptation of a news story dating back to the 19th century remains a metaphor that never manages to stand on its own narrative feet. Never sufficiently enticing to emotionally draw the audience's attention, its forced intensity may seem relatively tame for the younger set but risks putting off older audiences. Jacquot's considerable reputation may still carry this into the art circuit, though it is far from being one of his best efforts.
Taking place in 1865, with the wild Ardeches landscape as its symbolic background, it follows the fascination of Josephine (Le Besco), a country doctor's devout daughter, for a strange youngster who enters her life. As if from nowhere, Timothee (Perez Biscayart) puts her under his spell, drags her out of her home into the deep forest, enslaves her to his will, and then, once he is apprehended by the police, claims she has been his victim throughout.
Behind it all − and it isn't very difficult to unravel this secret − the blame rests entirely with the deeply troubled Josephine who may have inherited some of her late mother's mental problems. Her excessive closeness to her father is duly underlined in the early scenes and her pious stance in church is not devoid of sexual connotations.
Once she settles her eyes on Timothee she recognizes a force of nature that could be the answer to all her secret desires. If she has to struggle, it is not against him but against herself, against everything she has been brought up to be. Falling prey to his makeshift type of magic magnetism is ultimately no more than an excuse. And indeed, as she allows herself to be lured into the effectively shot wild forest − a reflection of her tortured soul − her early resistance gives way to willing compliance. She no longer only submits, she also instigates, as is duly noted in a series of trysts.
The climax is reached during a country wedding when she almost tempts him into burning her shoulder with a smoldering piece of wood, in a sublimating act of love and at the same time a concession of sin. But once he is apprehended and brought to justice, her obsession appears to be sated. Her pretense of righteousness takes over once more, she washes her conscience clean, testifies she was helpless in his hands and gets him a 12-year sentence.
Mainly conceived as a portrait of a woman giving in to her repressed urges at a time and place where it was totally unacceptable to do so, Jacquot's script and direction insist on the pathological case, even his choice of music contributing to that end. Isild le Besco, whose tormented looks are particularly appropriate for the part, is therefore encouraged to overdo her performance, which she does with a vengeance as if worried the audience won't get the message. Argentine Nahuel Perez Biscayart, whose expressive eyes are a distinct asset, can barely cope with the inconsistency of his character, which might as well be a figment of the woman's imagination. For Jacquot's own view of the tale, one can always observe the reactions of Jerome Kircher, playing the cynical investigating officer.
Production companies: Cine@, Passionfilms, Egoli Tossell Film
Producers: Philippe Carcassone, Mathieu Tarrot, Jens Meure
International Sales: Films Distribution
Screenwriter: Benoit Jacquot
Cinematography: Julien Hirsh
Editing: Luc Barnier
Music: Bruno Coulais
Sound: Henri Maikoff, Francois Musy
Cast: Isild Le Besco, Vahuel Perez Biscayart, Jerome Kircher, Mathieu Simonet, Bernard Rouquette, Jean-Pierre Gos