Dir/scr: J.K. Amalou. UK. 2012. 90mins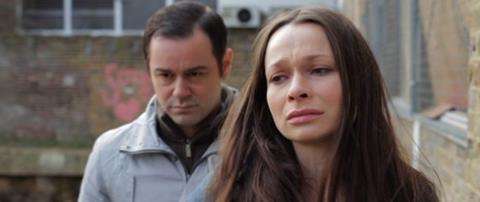 Deviation is an impressively staged psychological thriller that makes the most of its nighttime London locations and features a fine central pair of performances from Danny Dyer (leaving his cheeky-chappie persona behind) and genre favourite Anna Walton.
A nicely made two-hander that at least delivers some impressively chilling moments.
In essence it is a familiar 'woman-in-peril-from-psycho-killer' genre, but shot atmospherically in widescreen by writer/director J.K. Amalou it offers up enough crime thrills to appeal to genre fans as well as Dyer's healthy home-entertainment fanbase.
Internationally the slick crime thrills may appeal in certain territories, while Anna Walton's reputation from genre films such as Hellboy II: The Golden Army and Vampire Diary may make it of interest to horror fans.
When escaped killer Frankie (Dyer) car-jacks young nurse Amber (Walton) as she gets into her car she decides to initially play along with his plans to get out of the country in the hope that he will free her. But as the long night draws on his dark charm gives way to pure psychotic behaviour, and the bodies start to fall as he refuses to let her escape his clutches.
She is forced to play a game and cat-and-mouse as she tries to lull him into a sense of trust in her behaviour before trying to find a way to escape.
Danny Dyer is at ease in the psycho killer role. He can over-act at times, but his dark and scary Frankie is a nicely complex role and he brings just the right amount of malevolence to the role. At the same time, Anna Walton is impressive as the terrified nurse, and convincing as she tries to figure out the best way to escape her captor.
Deviation – which has a brief theatrical run in the UK before heading to dvd – may well be familiar, but it is a nicely made two-hander that at least delivers some impressively chilling moments.
Production companies/sales: Silverleaf Pictures, admin@silverleafpics.co.uk
Producers: J.K. Amalou, Lara Greenway
Executive producers: Sam Amalou, Nick D'Onofrio, Daryl Folkard, Derek Mills
Co-producer: Michael Riley
Associate producers: Lucy Hay, Pauline Murphy
Cinematography: Ollie Downey
Editor: St. John O'Rorke
Production designer: Chloe Brady
Music: frYars
Website: www.deviationmovie.com
Main cast: Danny Dyer, Anna Walton, James Doherty, David Fynn, Alan McKenna, Roy Smiles. Ben Wigzell