Dir: John Erick Dowdle. US. 2010. 80mins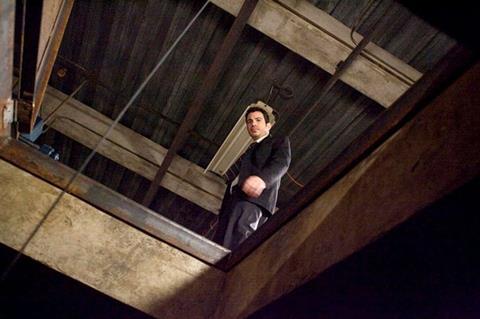 Devil was conceived by M Night Shyamalan as the first of The Night Chronicles, a series of three projects the genre auteur plans to hand over to up-and-coming film-makers. So it's perhaps not surprising that this reasonably effective supernatural thriller has the slightly old fashioned, low-budget feel of a Twilight Zone episode, complete with confined setting, largely anonymous characters and last minute moral twist.
What the director doesn't do very often is deliver the kind of jolts or gore that modern horror fans usually require.
Neither the minimalist style nor the little known cast will count for much at the box office, but Shyamalan's name and the current vogue for demonic horror might still allow the Media Rights Capital production - launched this weekend in the US and UK by worldwide distributor Universal - to turn a profit, particularly after home video exploitation.

Director John Erick Dowdle and producer Drew Dowdle, who previously teamed on The Poughkeepsie Tapes and English-language [REC] remake Quarantine, were Shyamalan's picks for the first Night Chronicles installment and they do a promising job realising the script by Brian Nelson (Hard Candy).

The five central characters - a sleazy salesman (Geoffrey Arend, from 500 Days of Summer), a cranky old lady (Mystic River's Jenny O'Hara), a moody mechanic (Logan Marshall-Green, from Brooklyn's Finest), a nervous young woman (Drag Me To Hell's Bojana Novakovic) and a touchy security guard (The Last Sentinel's Bokeem Woodbine) - are all stuck in a skyscraper lift. And each time the lights fail, one of them meets a grisly end, apparently at the hands of a supernatural intruder (glimpsed only once through the entire film).

Intercutting the elevator action with a suicide investigation being conducted in the same building - not coincidentally, it of course turns out - by a troubled cop (Jacob Vargas, from Jarhead), director Dowdle slowly builds the tension. What he doesn't do very often is deliver the kind of jolts or gore that modern horror fans usually require.


Productions companies: Media Rights Capital

Worldwide distribution: Universal Pictures www.universalpictures.com

Producers: M Night Shyamalan, Sam Mercer

Executive producers: Drew Dowdle, Trish Hoffman

Screenplay: Brian Nelson

Cinematography: Tak Fujimoto

Production designer: Martin Whist

Editor: Elliot Greenberg

Music: Fernando Velazquez

Website: www.thenightchronicles.com/devil

Main cast: Chris Messina, Logan Marshall-Green, Geoffrey Arend, Bojana Novakovic, Jenny O'Hara, Bokeem Woodbine, Jacob Vargas