Dir: David Bowers. US. 2012. 94mins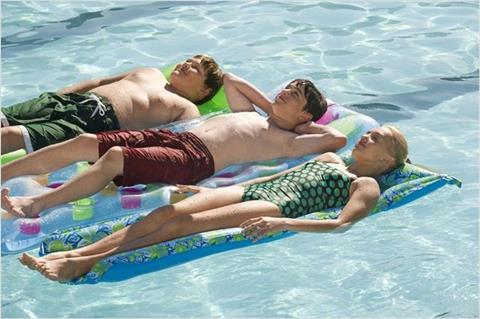 The latest instalment in the adaptations of Jeff Kinney's Diary Of A Wimpy Kid publishing phenomenon delivers just the right amount of fun and games to click with its core young audience as holiday season looms, with its game young cast engaging and funny and the film brimming with enough excruciating and embarrassing mishaps to keep young audiences happy.
Diary Of A Wimpy Kid: Dog Days is perfect family film fodder and likely be a box office success.
The episodic nature of the film tallies with Kinney's 'novel in cartoons' book structure, which follow the misadventures of unrelentingly wimpy kid Greg Heffley (enthusiastically played again by Zachary Gordon) and his friends, families and 'enemies'. The first two films – Diary Of A Wimpy Kid and Diary Of A Wimpy Kid: Rodrick Rules – were box office successes, and this third adaptation looks being a summer hot for Fox, nicely positioned against the superhero blockbusters but aimed at a younger audience desperate for new films.
With the entire key cast returning to their roles, there is a great sense of familiarity and reassurance and this time round the story escapes the confines of the school and heads off into the fun-packed world of the summer vacation…which offers up plenty of opportunities for pratfalls and wild comedy shenanigans.
It is the end of eighth grade and with summer holidays looming Greg plans nothing more than sitting indoors all day playing video games while also mulling over how to pursue his lovely crush, schoolmate Holly (Peyton List). His parents Frank (Steve Zahn) and Susan (Rachael Harris) have other plans though…which involve Greg spending time outdoors and bonding with his father through an internship at his office.
Greg finds a way out when he is invited by his best pal Rowley (Robert Capron) as his guest to the luxury country club where he and his parents are members. Not only is there a beautiful pool and smoothies provided by staff, but Holly is also there teaching tennis to young children. Greg tells his parents he has a job at the club and it soon becomes a daily fix as he attempts to get closer to Holly.
Naturally enough things go badly – incidents range from Greg and Rowley's inept attempts to play tennis and their terror on a rollercoaster ride, through to Greg losing his swimming costume after a leap from the diving board and the Heffley family adding a rampaging dog named Sweety to their ranks – but Greg's genial enthusiasm and willingness to always take a risk sees him through.
The vignette nature of the film's structure means there are lots of events and incidents and there are moments when there is a niggling feeling that the film-makers are trying to pack in too much at the expense of having a story that develops. But film is at its best when it comes to the relationship between Greg (Zachary Gordon again nails the character perfectly) and his father, played with real skill and control by Steve Zahn.
There are plenty of moments to enjoy. Greg and Rowley are a delightfully mismatched pair of best pals; Holly is a sweet character and Greg's tentative relationship with her is nicely handled; Greg's older brother Rodrick (Devon Bostick) is as wacky and amusing as ever, and the few scenes young Laine McNeil (as Greg's arch enemy Patty Farrell) has are to be cherished.
While never hilarious and ground-breaking, Diary Of A Wimpy Kid: Dog Days is perfect family film fodder and likely be a box office success…especially if weather is bad and entertainment desperately needed.
Production companies: Color Force, Fox 2000 Pictures
International distribution: Twentieth Century Fox
Producers: Nina Jacobson, Brad Simpson
Executive producers: Jeff Kinney, Jeremiah Samuels
Screenplay: Maya Forbes, Wallace Wolodarsky, based on the book by Jeff Kinney
Cinematography: Anthony B. Richmond
Editor: Troy Takaki
Production designer: Brent Thomas
Music: Edward Shearmuir
Main cast: Zachary Gordon, Steve Zahn, Robert Capron, Devon Bostick, Peyton List, Rachel Harris, Grayson Russell, Karan Brar, Patty Farrell