Dir: David Bowers. US. 2011. 99mins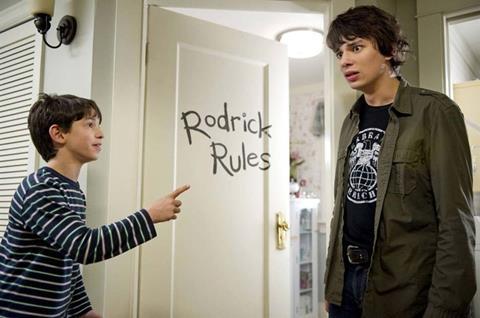 A peppy and energetic but not overly cloying tone aligns nicely with a clutch of lively and engaging performances in this smart, heartwarming follow-up to Diary of a Wimpy Kid, based on Jeff Kinney's same-named series of books, which have sold a combined 42 million copies.
The script is solid, imparting its slightly moralising lesson of familial reconciliation in an artful and entertaining way.
Holdover business from smash family hit Alice In Wonderland may have somewhat contributed to the theatrical gate of this sequel's predecessor, which grossed a surprisingly robust combined $75 million worldwide in the same frame last year, powered by a $22 million Stateside opening weekend haul. Though that same total may be a stretch, the appeal and reach of the source material, which originated as a series of online cartoons, combined with generally positive audience reaction should help further cement Wimpy Kid's burgeoning franchise viability.
Conforming nicely to the timeline of the outside world, the film unfolds one year after its predecessor, with Greg Heffley (Zachary Gordon) beginning seventh grade. Though still a bit gangly and awkward, Greg has adapted to his middle school environment, even if he has some trouble handling a growing crush on Holly (Peyton List). At home, however, Greg is seemingly always at odds with his older brother Rodrick (Devon Bostick), who's more interested in his grunge-metal band, Löded Diper, than any academic pursuits.
Fed-up with their inability to get along, the boys' parents (Rachael Harris and Steve Zahn) force them to spend a weekend together alone. The shared secret of a party momentarily bonds the pair together, but when their parents uncover the truth the delicate and fragile advances in fraternal rapport seem ready to unravel.
Diary of a Wimpy Kid: Rodrick Rules is characterised in fits and starts by the sort of overly demonstrative acting and tonal underlining one sadly comes to expect from so many family films, but it works as entertainment even for older audiences because its public humiliations of the familial variety are so relatable. It helps, too, that the filmmakers get so many surrounding details right, from the awkwardness of a couples skate to a candy bar that leaves an unfortunate stain on Greg's pants.
Director David Bowers (Flushed Away) makes his live-action debut here, and shows a knack for crafting well-staged scenes that advance the story and also work in self-contained fashion. The script is solid, imparting its slightly moralising lesson of familial reconciliation in an artful and entertaining way, without coming across as overly artificial or saccharine.
Zahn isn't given much to do other than be the buffoonish, too-removed dad, but Gordon and Bostick are both engaging. The former is relatable and sympathetic, while the latter is clued in in some savvy ways to the hormonal self-involvement that so often informs an older teenage sibling's lack of patience for the attention of a younger brother or sister.
As with the first film, seeded throughout this Wimpy Kid are animated, mostly black-and-white bumpers that bring to life adolescent flights of fancy and fits of frustration related to Greg's adventures.
Production companies: Fox 2000 Pictures, Color Force Productions, in association with Dune Entertainment
Domestic distribution: 20th Century Fox
Producers: Nina Jacobson, Brad Simpson
Executive producer: Jeff Kinney
Co-producer: Ethan Smith
Screenplay: Gabe Sachs & Jeff Judah, based on the book by Jeff Kinney
Cinematography: Jack Green
Editor: Troy Takaki
Production designer: Brent Thomas
Music: Edward Shearmur
Website: www.DiaryofaWimpyKidMovie.com
Main cast: Zachary Gordon, Devon Bostick, Rachael Harris, Robert Capron, Fran Kranz, Steve Zahn, Peyton List, Karan Brar, Grayson Russell, Laine MacNeil