VR is shaping up to be a combination of cinema, theatre and gaming, says the director of the UAE's first VR narrative short Flash.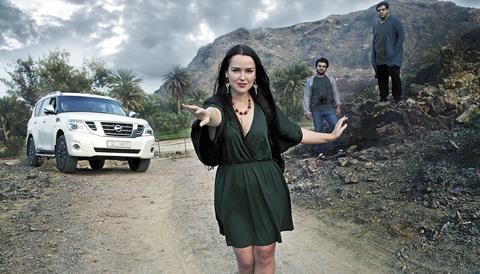 Virtual reality (VR) is shaping up to be a combination of cinema, theatre and gaming, according to Hassan Kiyany, VR filmmaker and programmer of DIFF sidebar DIFFerent Reality, which kicks off today (Dec 8).
"It definitely requires a different way of thinking – it looks like in the future it will add elements of live theatre and gaming to the cinematic experience," said Kiyany, whose VR work Flash is also screening in DIFFerent Reality. "Even now, people who have made VR films say the experience is closer to directing theatre than traditional filmmaking.
Kiyany worked with DIFF to select ten VR works from all over the world to screen in DIFFerent Reality. The line-up includes Indian director Faiza Ahmad Khan's When All Land Is Lost, about the polluted land of Korba; Italian director Haider Rashid's No Borders, which tackles the refugee crisis; and UK director Darren Emson's Invisible, about detention in the UK's immigration system.
Audiences will be also be taken to the depths of a Siberian lake in Lake Baikal: The Science And Spirituality Of Extreme Water and the Amazon rainforest and Virunga National Park in Are You Listening?: Amazon & Congo.
The progamme are also includes fiction stories from French directors Pierre Zandrowicz and Romain Levices, Canada's Adam Cosco and US director Randal Kleiser, who is better known as the director of cult classic Grease.
"We wanted to present the audience with a good mix of fiction and non-fiction, stereoscopic and monoscopic, and make sure they see all the different approaches of filmmakers working in this area," said Kiyany.
Kiyany's own film Flash, supported by Imagenation Abu Dhabi and DIFF's Enjaaz, is a road trip filmed in Ras Al Khaimah using Kodak 4K cameras. "We built some solutions ourselves and had to think about stabilisation, stillness and the many other challenges involved in VR filming," said Kiyany.
France's Diversion Cinema worked with DIFF to create the VR cinema in the Madinat Jumeirah. An audience of around 20 will don headsets to view each film as a collective experience.
VR is also a focus of this year's Dubai Film Market, with several companies including Sony Playstation, DIVR and Giga Works also offering VR experiences, while two Forum sessions today will look at story-telling and investment in the VR space.