EXCLUSIVE: Maastricht Concert took more than £1.4m at UK box office over weekend.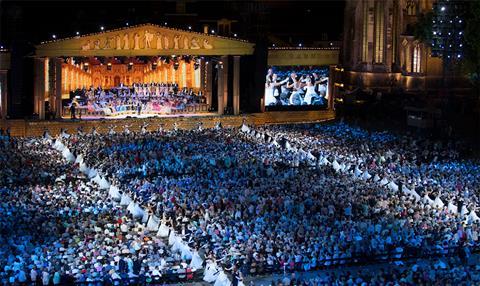 André Rieu's 2016 Maastricht Concert took more than £1.4m at the UK box office this weekend for CinemaLive, to become the highest-grossing music concert of all time in the territory.
Screenings took place on Saturday 23 July at 7pm and Sunday 24 July at 3pm in 544 locations across the UK and Ireland, grossing a verified weekend result of £1,408,251 (source: Rentrak).
The event cinema golden ticket surpassed last year's UK result of £1m, which itself was a record at the time, beating out Take That Live and One Direction: Where We Are - The Concert Film.
It charted third at the box office ahead of Hollywod fare including Ghostbusters, Ice Age: Collision Course and The Secret Life Of Pets.
The concert also screened at a further 266 cinemas across Europe, including in The Netherlands, Belgium, Denmark, Romania, Germany, Spain and Poland. In Denmark, the concert became the highest grossing event cinema release of all time.
Affectionately known as 'The King of Waltz', violinist and conductor Rieu performs a series of concerts in his hometown of Maastricht in The Netherlands every year.
He is joined by his Johann Strauss Orchestra, his sopranos, tenors and special guests. The CinemaLive event has reached a growing audience since 2011 and is hosted by Good Morning Britain's Charlotte Hawkins.
CinemaLive CEO & director, Peter Skillman, said today: "We are incredibly proud of André Rieu for breaking his own record once again at the UK and Irish box office. His cinema audience around the world continues to grow year on year, proving a fantastic example of how an Artist can form a meaningful, ongoing connection with fans through cinema, as well as being a viable revenue stream."
Further screenings will take place this coming weekend in Australia and New Zealand, followed by Canada, Brazil, France and South Africa with further territories to be announced in due course.
CinemaLive were Highly Commended in the 'Event Cinema Campaign of the Year' category for their work on André Rieu's 2015 Maastricht Concert at last year's Screen Awards.