The finance plan for Martin Scorsese's mob story remains unclear.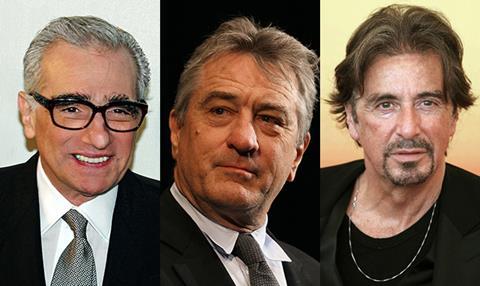 Independent distributors contacted by Screen have called reports that Netflix has bought worldwide rights to Martin Scorsese's upcoming crime-drama The Irishman "fake news" amid ongoing confusion over the film's finance plan.
Reports surfaced in US media two days ago that Netflix was negotiating a full finance deal for the film, something subsequently confirmed to Screen by insiders close to the project.
Following US reports then claimed that a deal had been reached amid conjecture that producer Gaston Pavlovich could be fishing for a bigger budget for the film (and a smaller personal stake) due to its supposed escalating cost (reportedly north of $100m).
It remained unclear at time of writing whether Pavlovich, who financed a major portion of Scorsese's Silence, intends to play a part in financing The Irishman or wants Netflix to bear the burden.
However, reports of a Netflix deal have left the film's distributor STX and their international distribution partners bemused and frustrated.
"I've never known a situation like this," said one major distributor who acquired the film from STX.
"We have a signed contract for our territory. We expect that contract to be honoured. If you ask me this is fake news. It is all based on speculation," the buyer continued.
"Perhaps this is a strategy from one of the players involved."
Another buyer told Screen:
"We stand by our partner STX - who to our knowledge represents international rights, as we represent our territory - as we try to figure out the situation. If you ask me, a couple of media outlets have launched a story without running a proper background check, and I think a lot of film professionals would agree with me that it seems very questionable that rights can swap that easily from one company to another overnight."
In some cases, STX's output partners will have put aside millions of dollars to secure the film. Those are millions of dollars they didn't spend on other films because they thought they had acquired Scorsese's crime-drama, which is set to star Robert De Niro and Al Pacino.
STX itself is due to distribute the film in the UK, one of the most important territory's for the film.
Regular conversations are now taking place between STX and international buyers over the situation and STX is inevitably seeking clarity from producer Pavlovich.
Screen sources indicate that, as previously reported, STX is consulting with its lawyers over the matter.
Pavlovich's Fabrica de Cine has been unavailable for comment. Netflix has also declined to comment.
Paramount, which was reportedly in line to distribute the film in the US was unavailable for comment, as was STX.
However, Screen sources have confirmed that Paramount's involvement is less likely than before (which could potentially pave the way for a US deal with Netflix).
The streaming giant's involvement might not necessarily be music to director Scorsese's ears. The filmmaker and avowed cinephile told a London audience this week that watching films at home "isn't the best way".