EXCLUSIVE: Pre-buys include Abdellatif Kechiche's next film after Blue Is The Warmest Colour.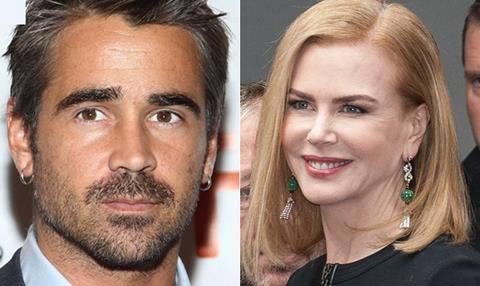 Curzon Artificial Eye has secured UK rights a trio of high-profile art-house titles in the shape of Yorgos Lanthimos's anticipated drama The Killing Of A Sacred Deer, Abdellatif Kechiche's follow up to Blue Is The Warmest Colour, Mektoub is Mektoub, and Berlin winner Insyriated.
The Killing Of A Sacred Deer reunites director Lanthimos with The Lobster star Colin Farrell who plays Steven, a charismatic surgeon forced to make an unthinkable sacrifice after his life starts to fall apart and the behaviour of a teenage boy he has taken under his wing turns sinister.
Co-starring are Nicole Kidman, Alicia Silverstone and former Screen Stars Of Tomorrow Barry Keoghan and Raffey Cassidy.
The pre-buy was negotiated with Gabrielle Stewart at HanWay and was completed in partnership with Madman Australia, in what is a first collaboration between the two companies. The latter will release in Australia.
The joint acquisition is understood to have improved the companies' leverage in securing the film, which has been in-demand among distributors.
A24 handles US on the title, which is backed by Film4, the Irish Film Board and New Sparta and produced by Room and The Lobster producers Element Pictures.
Mektoub is Mektoub, about a young screenwriter faced with a difficult choice between his lover and his career, marks a continuation of Curzon's relationship with Abdellatif Kechiche, having previously released Couscous and his Palme d'Or winner Blue Is The Warmest Colour.
The deal was negotiated with Agathe Theodore of Pathé.
Insyriated, the Syrian war drama starring Hiam Abbas which won the Panoroma Audience Award in Berlin, revolves around a mother of three who is trapped inside her our house in a city under siege.
She turns her flat into a safe harbour for her family and neighbours, trying to protect them from the war outside. When bombs threaten to destroy the building and when snipers turn the courtyards into deadly zones and burglars break in to claim their bounties, maintaining the thin balance of routine inside the walls becomes a matter of life and death.
The deal was negotiated with Louis Balsan at Films Boutique.
Louisa Dent, MD of Curzon Artificial Eye, said:
"We are thrilled to have acquired these three films. I'm sure everyone is as excited as we are to see new films by Yorgos and Abdellatif in cinemas. We are confident that The Killing of a Sacred Deer and Mektoub is Mektoub will not disappoint. Insyriated deserves the widest possible audience and we look forward to helping it achieve success."
"Furthermore we are delighted to be partnering with our friends at Madman on The Killing of a Sacred Deer. We share an affinity with them, having worked on number of the same titles over the years, and we look forward to cementing that bond."
Curzon's upcoming releases include Oscar winner The Salesman, Park Chan-wook's The Handmaiden and Venice drama Frantz.