Ruling over Palme d'Or winner fuels growing fears of conservative backlash in France.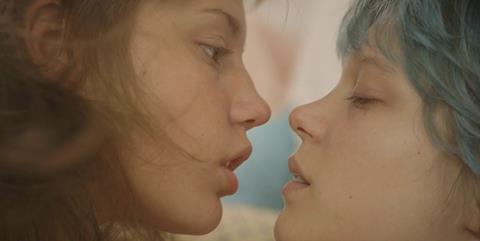 A French court has cancelled the under-12 classification of Cannes d'Or winner Blue is the Warmest Colour following pressure from a Catholic pressure group, fuelling growing fears of a conservative backlash in France.
The Paris Administrative Court of Appeal ruling published on Wednesday (Dec 9) said the picture's "realistic sex scenes" were are "of a nature that could impact the sensitivity of a young public" and ordered French Minister of Culture and Communications Fleur Pellerin to re-examine the classification within a two-month period.
The ruling, some two years after Abdellatif Kechiche's passionate lesbian love story was released theatrically in France, has sparked consternation in cinema circles and beyond.
France's under-18 rating was originally created in 2001 in response to the controversy surrounding the classification of Virginie Despentes and Coralie Trinh Thi's Baisse- Moi.
It is aimed at films featuring non-simulated sex scenes or sexual violence that are not suitable for minors but have artistic merit and was created as an alternative to the X-rating meant for pornographic works.
Blue is the Warmest Colour, if co-stars Léa Seydoux and Adèle Exarchopoulos's Cannes 2013 revelations are to be believed, ticks neither of the criteria boxes.
The action to change the classification was initiated by Catholic pressure group Promouvoir, which was also behind a successful campaign to get Gasper Noé's Love re-classified from an under-16 certificate to an under-18 certificate over the summer.
The association – run by a right-wing conservative Catholic lawyer – has also forced re-classifications for Saw 3D, Nymphomaniac 1 and Ken Park in recent years.
The Love re-classification was not only a blow for creative freedom but also left distributor Wild Bunch Distribution out of pocket.
The decision — two weeks into the film's release campaign — abruptly reduced the scheduled release due to the fact that many mainstream theatres do not programme under-18 certificate films. The company's P&A spend was far larger than finally required.
Creative Freedom under threat?
The rulings have prompted warnings from French filmmakers and producers that creative freedom is under threat in the country.
In the backdrop, news of the decision came just days after France's far-right National Front party triumphed in an initial round of regional elections, taking 28% of the national vote, another development that is seen as potentially dangerous for creative freedom due to the party's traditionally conservative attitude towards culture and public criticism by some of its politicians of contemporary art.
Reaction to Ruling
In an immediate reaction to Wednesday's ruling, Minister of Culture Pellerin said she would challenge the certificate cancellation in France's Council of State, or Supreme Court for administrative justice.
Authors, directors and producers body ARP said it was astonished by the administrative court's decision and backed Pellerin's Supreme Court challenge.
"ARP's cineastes are stupefied by the administrative court's decision in favour of the shameful arguments of such a steadfastly obscurantist association," it said in a statement.
The body added that the ruling underlined the urgent need for a reform of France's classification system.
Xavier Lardoux, cinema chief at the National Cinema Centre (CNC), and Jean-François Mary, head of France's classification committee, are currently researching a set of reform proposals, having been charged with the task by Pellerin following the Love debacle over the summer.
Key issues under scrutiny are the composition of the classification committee, featuring a mix of family associations and cinema professionals; the certificate bands of under-12, under-16 and under-18, which are deemed anachronistic, and the fact classification decisions can be easily overturned on appeal.
Their proposals are expected to be announced early next year.