EXCLUSIVE: German seller lands Special Jury Award winner produced by Jasmila Zbanic.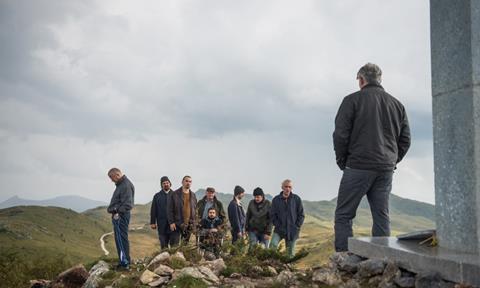 German sales outfit Picture Tree International has boarded international rights to Yugoslav wars drama Men Don't Cry, which this weekend scored the Special Jury Award and Europa Cinema Award in Karlovy Vary.
Picture Tree acquired the film from producers Damir Ibrahimovic, Jasmila Zbanic and Rebekka Garrido.
Director Alen Drljevic's debut feature (Drljevic was a first AD on a trio of Zbanic's films) features an all-star Balkan male acting team including Leon Lucev, Boris Isakovic and Emir Hadzihafizbegovic.
The film, set two decades after the war ended in Yugoslavia, follows a diverse group of veterans who gather at a remote mountain hotel to undergo group therapy.
Watch the trailer below or on mobile HERE.
Emotions are highly charged as old enmities and hostilities emerge, but the participants gradually learn to overcome their deep divisions.
The well-received film is now gearing up for at least one other European summer festival berth and could also feature in the autumn.
The film was shot by Erol Zubčevic (An Episode In The Life Of An Iron Picker) and produced by Grbavica duo Zbanic and Ibrahimovic for Bosnia's Deblokada, and co-produced by Slovenia's Iridium Film, Croatia's Produkcija Ziva, Germany's Manderlay Film and Serbia's This & That Production, with the participation of ZDF/Arte and Bosnia's national broadcaster, Federal TV.
"We were recommended from various sides to give it a look and were blown away by the authenticity of the entire ensemble and the emotional quality of the film," Picture Tree's Andreas Rothbauer told Screen.
"I think this is a very important film on the subject of war that at times feels like a documentary. A film such as this has not been made to date."