Movie directed by Animal Kingdom's David Michod will get May 26 release.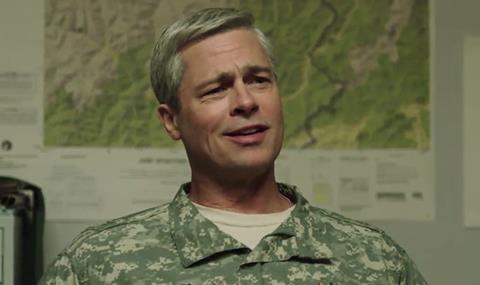 Netflix has released the first trailer for Aghan war satire War Machine, starring Brad Pitt and directed by David Michod (Animal Kingdom).
The 2015 acquisition, which still marks one of Netflix's splashiest movie plays to date, has been set for a May 26 global release on the platform.
The online giant confirmed to Screen today that the film will have a limited theatrical run through Netflix day and date with its online launch. The date falls on the second Friday of the Cannes Film Festival, prompting speculation of a Cannes berth.
The satirical comedy, produced by Netflix and Pitt's production company Plan B Entertainment, is inspired by bestseller The Operators: The Wild and Terrifying Inside Story of America's War in Afghanistan by late US journalist Michael Hastings.
Pitt stars as a brash US commander modelled on four-star General Stanley McChrystal.
Cast also includes Tilda Swinton, Emory Cohen, Meg Tilly, Ben Kingsley, Anthony Michael Hall, Will Poulter, Lakeith Stanfield and Topher Grace.