The national film body is behind a US tour this autumn of 10 new comedies without US distribution.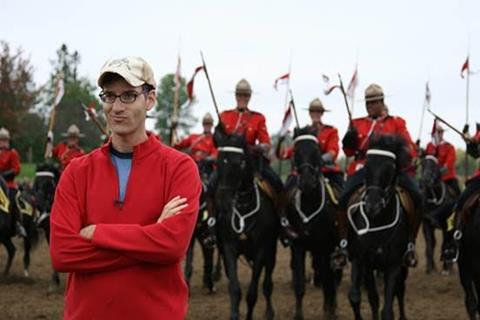 Former MoMA senior curator of film Laurence Kardish selected the films, which will arrive in New York and travel to Los Angeles and additional markets.
The Canada Cool tour runs from throughout the autumn and kicks off in New York on September 18 with the premiere of Robert Cohen's Being Canadian (pictured) at Cinema Village. The film will be released in theatres and VOD day-and-date that day via Candy Factory.
The other titles are: Ingrid Veninger's Animal Project; Shayne Ehman and Seth Scriver's Asphalt Watches; Jeffrey St Jules' Bang Bang Baby; and Émile Gaudreault's Fathers And Guns (De Père En Flic).
Rounding out the slate are Henri Henri by Martin Talbot;
Relative Happiness from Deanne Foley; Kris Elgstrand's Songs She Wrote About People She Knows; Aaron Houston's Sunflower Hour; and Maureen Bradley's Two 4 One.
Classics Selection entries are John Paizs' Crime Wave and The Decline Of The American Empire (Le Déclin De L'Empire Américain) from Denys Arcand.
MJ Peckos and Steven Raphael of required viewing will handle distribution, marketing and publicity.
"We're thrilled to be presenting this exciting new series of the best of Canadian comedies to US audiences," said Telefilm Canada executive director Carolle Brabant.
"Canada Cool aims to create a networked exhibition space for yet undistributed or unreleased Canadian films by building a collaborative programming model that will increase the exhibition and appreciation of Canadian films with an audience that represents a vitally important portion of the film-going public in the US."
"Being aware that Canadian humour has contributed to American film, from Mack Sennett's Keystone Cops to the shenanigans of Seth Rogen, I was delighted to organise a series of recent Canadian comedies alerting Americans that a new cultural front was imminent," said Kardish.
"This initiative highlights clever, lively and mischievous filmmakers from all regions of Canada who believe laughter helps us see more clearly, and whose irreverence both delights and instructs.
"Half are first features made by men, women, and one self-described gender queer, and for variety's sake, there is a documentary, a mockumentary, and a crowdfunded animated feature. The films themselves may be wild or gentle, broad or subtle, but they all share ambitious originality."