EXCLUSIVE: WestEnd Films boards Animal Kingdom-produced rom-com starring rising UK actor Callum Turner.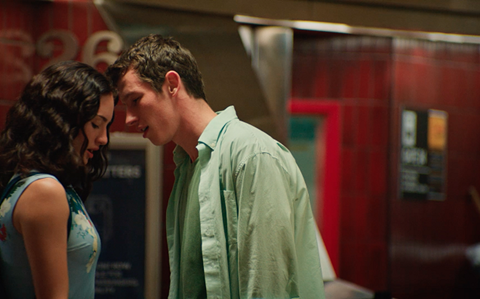 Ahead of its world premiere in Toronto, WestEnd Films has boarded Tramps, the sophomore feature from Gimme The Loot writer-director Adam Leon.
Rising British actor and former Screen Star Of Tomorrow Callum Turner (BBC-TWC's War & Peace) stars in the rom-com, which is produced by Joshua Astrachan (Short Term 12) and David Kaplan (It Follows) of New York indie maestros Animal Kingdom, alongside Andrea Roa (Drinking Buddies) and Jamund Washington (Gimme The Loot). Washington also shares a story by credit on the film.
Green Room star Turner plays opposite another rising actor Grace Van Patten, who recently wrapped on Noah Baumbach's upcoming untitled comedy with Emma Thompson, Ben Stiller and Dustin Hoffman.
In Tramps, Ellie (Van Patten) and Danny (Turner) are an unlikely pair of would-be criminals thrown together over two New York City summer days. Their misadventures through the streets, outer boroughs, and idyllic suburbs of New York include a heist, a stolen briefcase, mistaken identity – and the prospect of unforeseen romance.
UTA is handling domestic sales.
Executive Producers are Animal Kingdom's Frederick W. Green (Trespass Against Us – also premiering this year at TIFF), Michael B. Clark and Alex Turtletaub of Beachside (Safety Not Guaranteed) and Julia Godzinskaya, Sophie Vickers, and Michael Sackler of Rooks Nest Entertainment (The Witch).
Crew includes cinematographer Ashley Connor (Thou Wast Mild And Lovely) and composer Nicholas Britell (12 Years A Slave).
The film will premiere at TIFF on Saturday September 10.
Leon's criticial hit debut Gimme The Loot played in Cannes Un Certain Regard in 2012 and scored the Grand Jury Prize at SXSW.
WestEnd's TIFF slate also includes Benedict Andrews' festival screener Una starring Rooney Mara and Ben Mendelsohn, as well as comedy Old Boys, Kylie Minogue title Flammable Children and Nir Bergman's Saving Neta.