Dir: Yvan Attal. France. 2012. 92mins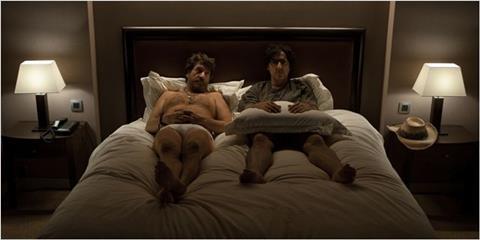 Do Not Disturb, Yvan Attal's French-language remake of Lynn Shelton's 2009 Humpday is visually slicker than the original, but hardly a must-see despite good performances from a name cast likely to attract French - and other European - audiences. As a transposition to France of a rotgut American indie, this lowkey comedy with a dramatic undertow is certainly honourable. But that's not the same as being consistently compelling.
Attal offers some scenes in which sound and image are decoupled to pleasing effect and the film sustains mild curiosity about how the two pals will resolve their predicament.
Perhaps the most interesting avenue the film opens up, is whether there's some discernible difference between the way a female filmmaker treats the premise of two straight male friends gearing up to sodomise each other on a dare vs. the vision a male director brings to the same material.
The opening frames consist of Ben (Attal) servicing his wife Anna (Laeticia Casta) doggy style, their soft moans and heavy breathing conveying pleasurable consensual sex. They're interrupted by the insistent ringing of their doorbell at 2 am, courtesy of Jeff (François Cluzet), a weather-beaten and footloose long-lost pal who has been doing "the Kerouac - Easy Rider thing" in Mexico and beyond. The two men are back-slappingly, bear-huggingly, thrilled to see each other.
Anna is fairly gracious considering she's ovulating and this is their window of opportunity to produce a much-desired pregnancy.
Jeff soon lures working stiff Ben to a freewheeling gathering hosted by a lesbian couple (played by Asia Argento and Charlotte Gainsbourg) in a loft overflowing with people who transgress societal norms for breakfast. (You've gotta love the French film-funding bodies that contribute to a movie in which Gainsbourg wears a rubbery hot pink dildo held erect in a harness while contemplating a three-way with Argento and Cluzet.)
In what seems like a good idea at the time, Ben and Jeff make drunken plans to have sex with each other on tape in order to enter the American amateur porn festival called Hump. Ben gets on the phone and reserves a hotel room.
By virtue of his well-appointed home and major babe of a wife, Ben seems too solid a citizen to be so easily swayed by walking clichés of alternative lifestyles, even while drunk. That, of course, is part of the alleged point: That until the idea of entering a video in the Hump festival comes up at the party, having-sex-with-my-fellow-heterosexual buddy was on neither guy's bucket list. And now it is, formulated as a date with destiny although neither man has the slightest interest in dating the other. Will either one "blink" and back out?
Cluzet, now 57, and Attal, 10 years his junior, are way older than their American models, Joshua Leonard and Mark Duplass, were and that makes the tale a tad odd yet not completely contrived. We're told that Jeff and Ben attended art school together, but neither seems like an erstwhile artist who needs to get something out of his system at this late date.
The film fancies itself an exploration of gray areas in sexuality, probing whether it's possible to force oneself into an unvisited part of the Kinsey spectrum in the guise of an artistic act rather than a sex act. But the proceedings come across more as asking whether one is honour-bound to go through with a commitment made in an altered state of consciousness, initially egged on by strangers. The stakes are too nebulous to feel entirely urgent or real, although the action appears to be packed into one eventful weekend.
Ben's wife is not supposed to find out that he'll be cheating on her with Jeff. The reaction when Casta (excellent throughout) is asked for her Metro ticket by two transit inspectors on the night she learns what her hubby's "art project" really consists of, is a comic highlight, 50 minutes in. Not long after, the entire film picks up when Ben and Jeff end up in an enclosed space with time to burn and confessions to offer.
Unlike his previous feature outings, Attal (My Wife Is An Actress, And They Lived Happily Ever After) did not originate the project. He was asked to adapt and direct by the French rights holder. Attal offers some scenes in which sound and image are decoupled to pleasing effect and the film sustains mild curiosity about how the two pals will resolve their predicament.
The camerawork tends toward roving and nervous but settles down when the action turns more serious in the hotel room finale.
Production companies: Les Films 24, TF1 Droits Audiovisuels, France 2 Cinema, Films Sous Influence International sales: TF1 International
Producer: Mikael Abecassis
Executive producer: Frederic Bruneel
Screenplay: Yvan Attal, Olivier Bercot, based on the film Humpday by Lynn Shelton.
Cinematography: Thomas Hardmeier
Production designer: Thierry Francois
Editor: Jennifer Augé
Main cast: Yvan Attal, Francois Cluzet, Laeticia Casta, Asia Argento, Charlotte Gainsbourg, Joeystarr