Dir/scr: Richard Shepard. UK. 2013. 93mins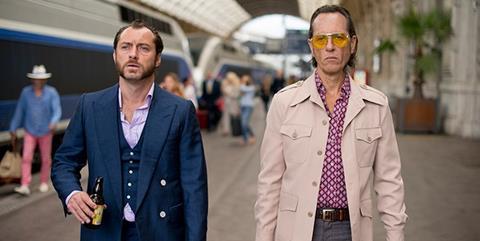 Jude Law has a fine old time playing foul-mouthed ex-con safecracker Dom Hemingway in Richard Shepard's engagingly off-beat black comedy crime tale. It is a performance that cries out for attention, and while perhaps too brutal to appeal to some awards voters it is one of Law's best turns, brimming with energy, brio and a real sense of dark fun.
What gives the film its hilariously biting heart are the as deliciously outlandish villains.
For its sheer relish for profanities and dark humour, Dom Hemingway reminds a good deal of Jonathan Glazer's 2000 British crime classic Sexy Beast, which featured a mesmeric performance by Ben Kingsley as a brutal boss and Ray Winstone as the former villain trying to escape his past. Jude Law's charismatic, angry and recklessly outspoken Hemingway is a swaggering delight and drives the film with his sheer energy.
The film opens with a sublimely funny and crude scene with an imprisoned Dom recounting in a monologue to camera the prowess and glory of his cock. It is a funny, rude and extremely crude sequence, beautifully delivered by Jude Law and setting the scene for this colourfully fun, brutal and foul-mouthed film.
Released from prison, he teams with his old sidekick Dickie (a sublime performance from Richard E Grant), and pair head off to France to meet up with his benefactor Mr Fontaine (Demian Bichir). Dom has spent 12 years in prison after taking the fall for Fontaine, and he is owed a bunch of money.
Arriving at Fontaine's plush country estate, Dom proceeds to lust after Fontaine's girlfriend (Madalina Ghenea), and get ridiculously drunk to the extent that he insults his boss…a foolish move given that he is a man whose casual attitude towards killing people who upset him is well known. Amazingly Dom is forgiven, and a wild drunken party ensues, featuring liberal amounts of drugs, sex and alcohol.
But a car crash – shot in almost comic-book style – puts and end to Dom's French idyll, with the result that he finds his money taken and has to return to England in search of work as a safecracker while also trying to reunite with the daughter he hasn't see since he was in prison. The film layers in the dark and funny twists and turns (with Dom having to prove his safecracking skills or lose his manhood) as this foul-mouthed dinosaur tries to find his place is a world that has rather left him behind.
There are moments when Dom Hemingway's rather freewheeling structure works against it – it is a bit episodic and rarely really settles on what bit of Dom's story it want to tell – but what gives the film its hilariously biting heart are the powerful and enthralling performances from Jude Law and Richard E Grant as deliciously outlandish villains. They are big, bawdy and brutal villains, but you just can't help love them.
Production company: Recorded Picture Company
International sales: HanWay Films, www.hanwayfilms.com
Producer: Jeremy Thomas
Executive producers: Christine Langan, Steve Christian, Peter Watson, Zygi Kamasa, Ivan Dunleavy, Steve Norris
Cinematography: Giles Nuttgens
Editor: Dana Congdon
Production designer: Laurence Dorman
Music: Rolfe Kent
Main cast: Jude Law, Richard E. Grant, Demian Bichir, Emilia Clarke, Kerry Condon, Jumayn Hunter, Madalina Ghenea, Nathan Stewart-Jarrett