Dir: Troy Nixey. US. 2011. 99mins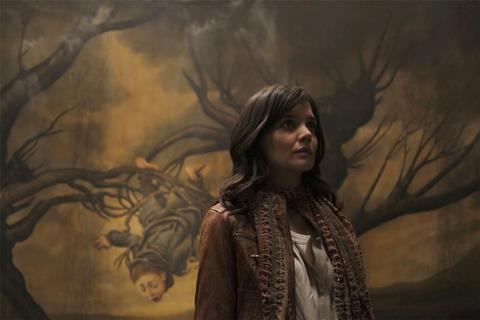 Another unimaginatively plotted horror film which unfolds in a cursed house and pairs a young girl who thinks she sees monsters with parents who don't believe her, Don't Be Afraid of the Dark arrives courtesy of co-writer Guillermo Del Toro's own childhood imaginations, and a 1973 teleplay that cast a chilly spell over him. Precious little of that menacing mood survives this technically proficient but rather yawning exercise in genre literalism, however — a disappointment considering the high-end creepiness and dark fantasia on display in some of Del Toro's own films, like Cronos and Pan's Labyrinth.
The general feeling that emerges is that something much more interesting could have been done with the concept
Starved genre fans will give the movie a quick commercial hug, but Don't Be Afraid of the Dark seems unlikely to enjoy the sort of wider breakout success that the thematically similar Insidious enjoyed earlier this year. The value of its association with Del Toro, however, will give its ancillary value a lift.
Following a prologue which establishes the film's setting as belonging to Emerson Blackwell, an infamous wildlife painter who met a mysterious end, Don't Be Afraid of the Dark flashes forward in time. Sally Hurst (Bailee Madison) arrives in Rhode Island from California to visit her father Alex (Guy Pearce), an architect overseeing the renovation of a sprawling, run-down mansion with his interior designer and much younger bride-to-be, Kim Raphael (Katie Holmes). Lonely and withdrawn, Sally discovers a walled-off basement, a fact which seems to rattle and displease the groundskeeper, Mr. Harris (Jack Thompson), who remembers some of Blackwell's dark story from his grandfather.
Sally's arrival seems to have awakened a group of skeletal, Lilliputian beasties who crave children's teeth. They whisper and call out to Sally, beckoning her to "come play with" them. Bad things ensue.
One can see how the Nigel McKeand TV movie upon which this film is based (apparently a formatively unsettling experience for writer-producer Del Toro) would be frightening to young kids, but as rendered here Don't Be Afraid of the Dark is fairly unattached, at least in meaningfully specific ways, to its tooth fairy mythology. A strangely knowledgeable librarian drops a big chunk of exposition halfway through, and Del Toro and co-scripter Mark Johnson rely on achingly familiar gambits like having Kim discover a batch of Sally's disturbed sketches.
Otherwise, the movie is just the extended seduction of childhood innocence by evil, punctuated by a few big moments of swarming violence. There's some modulated early creepiness, courtesy of the creatures' Gollum-y whispers. But the general feeling that emerges is that something much more interesting could have been done with the concept, since the facts that the creatures have a lair and the ability to lay in wait raises all sorts of questions.
Director Troy Nixey shows facility with the movie's CGI elements, and the creatures retain an elemental effectiveness, due to their gnarled, spindly look. Nixey has considerable trouble building and maintaining a sense of dread, however.
Cinematographer Oliver Stapleton, who in films like Birthday Girl, The Shipping News and An Unfinished Life has shown a knack for muted, naturalistic palettes, here feels constrained and/or hamstrung by competing directives. Portions of the movie, especially early on, feature sunlight streaming into windows, and seem to augur a blend of dramatic but realistic lighting. Much of the movie, though, dips into genre murkiness, relegated to what needs to be seen (or, rather, remain unseen) for a given scene.
Pearce seems uncharacteristically disengaged, his performance defined chiefly by volume. Holmes, meanwhile, is given a bit more to do than one might suspect, as Kim is actually the character who first comes around to believing Sally. Unfortunately, she proves herself neither particularly adept with metaphorical monologues nor more active engagement.
Production companies: Miramax Films, Gran Via, Tequila Gang
Domestic distribution: FilmDistrict
International sales: Pathe International
Producers: Guillermo Del Toro, Mark Johnson
Executive producers: William Horberg, Stephen Jones, Tom Williams
Screenplay: Guillermo Del Toro & Matthew Robbins, based on the 1973 teleplay by Nigel McKeand
Cinematography: Oliver Stapleton
Editor: Jill Bilcock
Production designer: Roger Ford
Music: Marco Beltrami, Buck Sanders
Website: www.dontbeafraidofthedark.com
Main cast: Guy Pearce, Katie Holmes, Bailee Madison, Jack Thompson, Julia Blake, Alan Dale