Dir: Johnnie To. Hong Kong-China. 2011. 117mins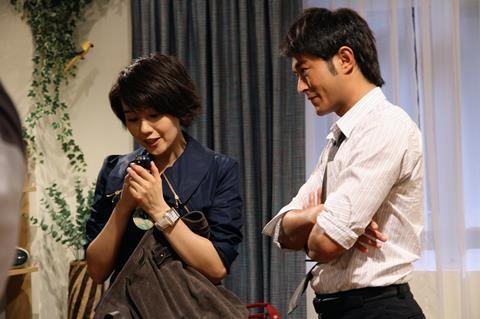 With Mainland China's vast market (and censor) firmly in mind, Johnnie To takes a break from his intense thrillers on triads and assassins with this Hong Kong-China co-production, a relentlessly sweet and entertaining urban rom-com starring Chinese actress Gao Yuanyuan (perhaps best known abroad for her star turn in the Cannes Jury Prize-winning Shanghai Dreams), as she juggles the fervent pursuits of two hunky and wealthy suitors.The film had its world premiere as the opening night film of the Hong Kong International Film Festival.
Don't Go Breaking My Heart is a delight to sit through.
With an original Chinese title that translates as "single man and woman" – thereby maintaining To's habit of including the words "man" and "woman" into the Chinese titles of his rom-com collaborations with Wai Ka-fai, which also include the high-grossing Needing You and Love on a Diet – Don't Go Breaking My Heart charts a love triangle characterised by secret crush and romantic mistiming.
Commercial prospects look solid in the Chinese-speaking markets, and the film should prove an audience-friendly crowd-pleaser for festivals with Asian interest and a safe bet for others that are looking to bank on Johnnie To's auteurish appeal.
Set around the Asian financial tsunami and its immediate aftermath, the upbeat movie opens with a chance encounter between Suzhou-born financial analyst Cheng Zixin (Gao Yuanyuan) and her ex-boyfriend (Terence Yin), who forcibly persuades Cheng to get off a bus to relieve the distress of his present pregnant wife (Selena Li). The trio's argument is witnessed by investment company CEO Cheung Shen-ran (Louis Koo), who abandons his own sports car to chase after the furious Cheng, only to be beaten to the spot by a drunken and seriously dishevelled man, who saves Cheng from the heavy traffic.
To Cheng's surprise, the seemingly homeless man, Fang Qihong (Daniel Wu), is actually a former New York architect whose career disillusionment has sunk him in drinking problems. Despite taking over her former beau's ugly pet frog (scene-stealing throughout before meeting its own tragic end) and successfully inspiring Cheng to reinvent herself, Fang's proposed date with Cheng a week after is subsequently forgotten by the young woman, whose heart is quickly stolen by Cheung's courting antics from an opposite skyscraper where his company office resides.
From their respective windows, the two set a date (which happens to be the same time proposed by Fang), but Cheung misses the occasion as his evening is sidetracked by another very forthcoming girl, leaving Cheng acutely disappointed by the fact that the man has began cheating even before the two's first date.
Events pick up three years later, when Cheung has taken over the company that Cheng's been working at. Gradually winning Cheng's heart by taking advantage of the two's professional relationship, Cheung nonetheless loses it all over again with his promiscuous tendency.
Enter Fang, who by pure coincidence has restarted his career at the exact same office previously occupied by Cheung. Being what the characters described as the third kind of man (the first two being "those who cheat" and "those who're considering cheating"), Fang proves to be the perfect marriage kind that Cheng has been looking for, although, being deeply in love with Cheung, she is reluctant to commit either way.
As the audiences get swept along by the whirlpool of romantic declarations by the two male protagonists, the action eventually moves to Shanghai, where Fang has built a skyscraper dedicated to Cheng. In a late scene of romantic declaration that distantly echoes a similar climax in Needing You, Cheng finally makes her choice between the flawed and the flawless. Between the easy charm of Louis Koo and Daniel Wu, Gao Yuanyuan – often on the brink of tears – largely holds her own with a delicate balance of emotional quiver and girl-next-door appeal.
Punctuated by a series of scene-stealing supporting performances, from Lam Suet's usual goofy self to the hilariously deadpan delivery of two extras respectively playing a car salesman and an elderly lady next door, Don't Go Breaking My Heart is a delight to sit through, a sensation reinforced by the film's occasional wordless sequences, in which Cheng Siu-keung's camera waltzes around the city of romance against Xavier Jamaux's breezy score.
Production companies: Media Asia Films, China Film Media Asia Audio Video Distribution Co., Milky Way Image Company
International sales: Media Asia Distribution www.mediaasia.com
Producers: Wai Ka-fai, Johnnie To
Executive producer: John Chong
Screenplay: Wai Ka-fai, Johnnie To, Yau Nai-hoi, Au Man-kit
Cinematography: Cheng Siu-keung
Production designer: Bruce Yu
Editor: Allen Leung
Music: Xavier Jamaux
Main cast: Daniel Wu, Louis Koo, Gao Yuanyuan, Lam Suet, J.J. Jia, Terence Yin, Selena Li