Dir. Oliver Parker. UK. 2009 112 mins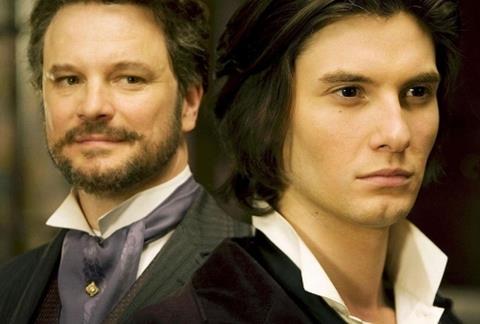 Director Oliver Parker and producer Barnaby Thompson's third collaboration on an Oscar Wilde title (The Importance Of Being Earnest in 2002, 1999's An Ideal Husband) offers a plodding, workmanlike adaptation of the author's only published novel.
Ben Barnes is tall, dull and handsome as the wide-eyed Dorian
This familiar gothic tale of a young man whose sells his soul for eternal beauty and a life of unalloyed pleasure first appeared in the late Victorian era and has been frequently adapted across all media from stage to television, opera and dance and most notably on film in the Oscar-winning 1945 version starring Hurd Hatfield as Dorian Gray.
As a result, Parker's disappointing re-visit could well be considered redundant and has the feel of a late entry in the Hammer horror cycle of the 1970s (although with less of the lurid abandon that might have entailed at the time). It could be a tricky commercial prospect as well, as his Dorian seems too tame for the modern horror audience and too inelegant for the traditional period drama crowd.
Dorian Gray is the first produced screenplay by Toby Finlay, who remains relatively faithful to the source material in the tale of the naive Dorian (Barnes). Arriving in London, he is befriended by society painter Basil Hallward (Chaplin) and catches the eye of Henry Wotton (Firth). It is Wotton who urges him to embrace a life of hedonism. Hallward paints such a breathtaking portrait of Gray that the young man vows that he would sell his soul to remain as he looks on the canvas. His wish becomes reality as decades of indulgence leave him without a blemish whilst the portrait becomes a grotesque reflection of his corrupted soul.
Parker takes a very traditional approach to the material, setting it in a sooty London of plush drawing rooms and foggy back alleys. Grainy flashbacks testify to Gray's awful childhood and familiar gothic cliches are dutifully trotted out including maggots bursting from the famed portrait and our hero being tormented by glimpses of his victims' rotted corpses. Visually the film lacks subtlety, with Parker lingering over blood-red jam being smeared on a scone or focusing on the besotted Basil virtually ejaculating paint on to his palette.
Parker also offers a very restrained vision of decadence depicted in coy montages of slow-motion seduction and blood-drenched murder. There is nothing lurid enough or shocking enough to give the film the jolt of intensity it needs to capture a younger audience and the CGI effects also tend towards the quaint.
Ben Barnes is tall, dull and handsome as the wide-eyed Dorian and never really gets to grips with the emotional anguish of a man trapped by the consequences of his Faustian pact. Colin Firth has some of the film's best lines and dispenses the witty, world-weary bon mots of the manipulative Wotton with practised ease even if his beard lends him a disturbing similarity to the late Luciano Pavarotti. Gaining a reputation as a reliable scene-stealer, Rebecca Hall once again makes the most of her relatively few scenes as Wotton's daughter Emily, a young woman with enough vivacity and compassion to make Gray yearn for virtue over vice.
The name cast and strong recognition factor in the title could be enough to secure Dorian Gray a relatively decent theatrical opening in the UK on September 9th, but long term prospects are less encouraging.
To sign up for Screen's weekly Reviews Newsletter with all the week's new releases, internationalopenings and full festival reviews delivered free to your mailbox every Friday, please click HERE
Production Companies
Fragile Film
Aramid Entertainment
Prescience
International sales
Ealing Studios International
44 208 567 6655
Producer
Barnaby Thompson
Screenplay
Toby Finlay, based on The Picture Of Dorian Gray by Oscar Wilde
Cinematography
Roger Pratt
Production designer
John Beard
Editor
Guy Bensley
Music
Charlie Mole
Main cast
Ben Barnes
Colin Firth
Ben Chaplin
Rebecca Hall
Fiona Shaw
Emilia Fox