Dir: James Rouse. UK. 2014. 98mins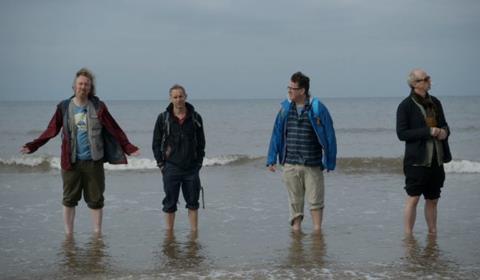 The transition from comedy to gently revelatory drama is nicely handled in James Rouse's engaging low-budget film Downhill that charts the misadventures of four middle-aged men whose attempt to recapture their carefree teenage years during a coast-to-coast walk falls apart as the weather worsens.
Downhill is about male middle-age angst, frustrations and regret.
Smartly written and with an astute viewpoint of the brittleness of old friendships, the mock documentary format works well here as the men ruminate on sex, map-reading, weather, money and kagools. The drunken antics nicely blend with increasingly sad views on their lives, and while never groundbreaking the film is impressively performed and shot.
The four men – news cameraman Gordon (Richard Lumsden), mild-mannered businessman Keith (Karl Theobald), teacher Steve (Jeremy Swift) and acerbic drunk Julian (Ned Dennehy) - decide to re-create Alfred Wainwright's coast-to-coast walk from St Bees to Robin Hood's Bay, while joining them is Gordon's son Luke who is filming the trip fly-on-the-wall style for a college project.
Gordon's wife describes the trip as just an excuse for a "hard-core piss-up" which describes pretty well the first few days as boozing and recovering take their impact on their limited walking abilities.
Soon though it is clear the 'Downhill' of the title is more about their descent into middle-age and the accompanying frustrations than it is about geography. All wired for sound thanks to Luke's film there are moments of bitterness, anger, humour and sadness as they talk amongst themselves, with Keith's drunken revelation about his homosexuality an impressive centrepoint of the film.
The performances are nicely mannered and engaging. Karl Theobald (star of UK TV comedy series Green Wing) is gently powerful as Keith while Richard Lumsden's Gordon – the organiser of the trip – becomes engagingly more complex as the film draws on. Frustratingly Ned Dennehy's posh-but-pissed Julian seems to be little more than a drunken letch with Daddy issues and Jeremy Swift's Steve is too gentle to make much of an impact.
They are joined by two women walkers, Caroline (Katie Lyons,) and American Jen (Emma Pierson), for a while, which leads to a playful interlude towards the end just as the film looked like it was heading into gloomy territory, but in the end Downhill is about male middle-age angst, frustrations and regret…but handled with smart humour and insight and even ending on a relatively high note.
Production company: Crisis Films, Outsider
Producers: Benjamin Howell
Executive producers: Robert Campbell, Elli Gharbi, Alex Melman, James Rouse, Tom Shutea
Screenplay: Torben Betts, based on a story by Torben Betts, Benjamin Howell and James Rouse, from an idea by Benjamin Howell
Cinematography: Alexander Melman
Editor: Bill Smedley
Production designer: Sam Riley
Music: Ben Park, Brodic Park
Website: http://downhill-the-movie.com
Main cast: Richard Lumsden, Karl Theobald, Ned Dennehy, Jeremy Swift, Katie Lyons, Emma Pierson, Rupert Simonian