Dir: Chris Renaud. US. 2012. 85mins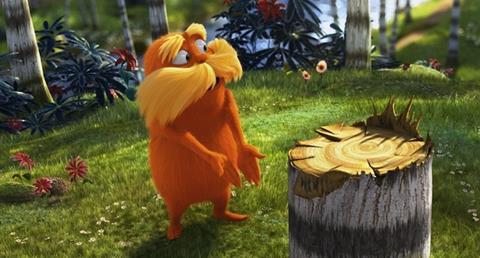 A colourful, vivacious and faithful CG-animated adaptation of Dr. Seuss same-named children's book, The Lorax delivers a peppy juvenile adventure along with an underlying ethical message that advises against greed and rampant overconsumption. Some talking heads on the far right side of the political spectrum have already decried this part of the movie as indoctrination, but the fairly innocuous moral slots in comfortably with a burgeoning eco-consciousness that should make the film a solid commercial performer with family audiences.
The vocal performances are uniformly splendid.
The Lorax marks Illumination Entertainment's third collaboration with distributor Universal, following on the heels of Hop and the wildly successful, $540 million-grossing Despicable Me. Previous adaptations of Dr. Seuss' material have been a bit hit-and-miss. The Cat In The Hat was a foreign flop, grossing less than a quarter of its $139 million haul overseas, but the animated Horton Hears A Who! (also written by screenwriters Ken Daurio and Cinco Paul) was a hit, splitting its near $300 million worldwide gross almost evenly. Given its fanciful trappings yet simplistic messaging, The Lorax would seem poised to translate well and trend upwards, with holdover ancillary value to boot.
Driven by a crush on schoolmate Audrey (Taylor Swift), 12-year-old Ted Wiggins (Zac Efron) slips out of his enclosed, wholly plastic hometown of Thneedville, in hopes of tracking down a real tree to present her as a gift. Outside his burgh, Ted meets a grumpy hermit known as the Once-ler (Ed Helms), who relates the cautionary story of how long ago, in the pursuit of mass-manufacturing his multi-purpose "thneed," he ignored repeated admonitions of the guardian of the forest, the Lorax (Danny DeVito), and eventually cut down all the trees, leaving only a barren landscape.
When diminutive and autocratic super-capitalist O'Hare (Rob Riggle), who peddles Thneedville "bottled air" along with all of their other needs, learns of Ted's discovery, he tries to stop his plans to smuggle the seedling of a real tree back in Thneedville, fearing it will derail his own manufacturing monopoly.
The Lorax bears less in common with live-action Seuss adaptation hybrids like How the Grinch Stole Christmas and The Cat and the Hat than with the previously mentioned Horton and other sweetly moralising, enviro-friendly tales like the Ice Age films and Happy Feet, as well as director Chris Renaud's bouncy, vibrant Despicable Me.
In addition to appealingly rendered Truffula Trees, whose tufts of growth resemble cotton candy, an overall exaggerated animation style both allows for engaging characters and makes good use of vertical space. There is also a lot of movement within frames, which creates a lively and unflagging sense of energy sure to entertain younger viewers.
There's a fundamental disconnect, however, between story elements as discussed and actually rendered. Smog and an environmental impact on quality of life are talked about, but never seen, lest The Lorax's colorful palette be compromised. Daurio and Paul's script, meanwhile, eschews any examination (or indeed even a real explanation) of the city's walled-in nature, which in turn seems to blunt O'Hare's characterisation and the effectiveness of its moral.
Instead, more time is spent on effervescent tunes from Paul and composer John Powell, which mostly connect. The movie then builds to a madcap chase finale that, while technically accomplished and invigorating on a base level, also feels like a terribly pat narrative solution.
The vocal performances are uniformly splendid. While White is a bit underused as Ted's Grammy Norma, all of the actors inhabit their characters with aplomb, and display a solid sense of tone and timing that fits with the material.
Production companies: Illumination Entertainment, Chris Meledandri Productions
US distribution: Universal
Co-director: Kyle Balda
Producers: Chris Meledandri, Janet Healy
Executive producers: Audrey Geisel, Ken Daurio, Cinco Paul
Associate producer: Robert Taylor
Screenplay: Cinco Paul & Ken Daurio, based on the book by Dr. Seuss
Art director: Eric Guillon
Production designer: Yarrow Cheney
Editors: Ken Schretzmann, Claire Dodgson, Steven Liu
Music: John Powell
Songs by: John Powell & Cinco Paul
Website: www.TheLoraxMovie.com
Main cast: Danny DeVito, Zac Efron, Ed Helms, Taylor Swift, Rob Riggle, Betty White, Jenny Slate, Nasim Pedrad, Stephen Toblowsky, Danny Cooksey