Dir: Pete Travis. US-UK. 2012. 96mins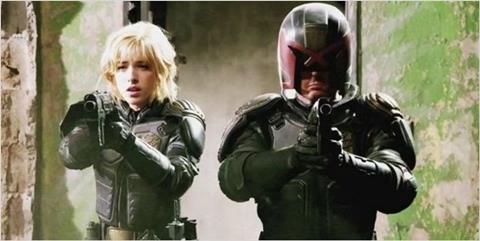 An action movie with confidence, style and unapologetic brawn, Dredd, much like its blunt protagonist, doesn't invest a lot of energy in oblique sketching of motivation, or playing coy. An adaptation of the popular British comic book focusing on the justice-dispensing character of the same name, this dystopian neo-noir unfolds as a full-frontal assault on the senses, while also carving out enough of a personality to establish a beachhead as a potential franchise for distributor Lionsgate.
Director Pete Travis (Vantage Point) orchestrates a fine array of action set pieces.
Opening in the UK on Septmeber 7 and the US on September 21, Dredd should surely satisfy fans of the source material far more than 1995's summer entry Judge Dredd, which starred Sylvester Stallone. Though that movie grossed $113 million worldwide, only 30 percent of that total came from Stateside box office, and the film's ill-fitting inclusions of humor and a love interest drew significant derision. Though sandwiched between more high-profile R-rated action competition in the form of Resident Evil: Retribution and Looper, Dredd should see a solid return on its investment, with particularly strong returns from overseas.
At an indeterminate point in the future, the world is an irradiated wasteland, and in America 800 million people are crammed into Mega City One, a sprawling metropolis running along the Eastern seaboard, from Boston to Washington, D.C. Crime in this urban jungle is rampant, and the only force of order lies in helmeted officers who combine the powers of judge, jury and executioner.
The no-nonsense Judge Dredd (Karl Urban) is one of these more known and feared justices. Tabbed as the evaluating officer for a clairvoyant recruit, Cassandra Anderson (Olivia Thirlby), Dredd takes her out on her training exercise, responding to a brutal triple-homicide at Peachtrees, a 200-story high-rise slum. The area is controlled by a prostitute turned vicious drug lord, Ma-Ma (Lena Headey), who's using the building as the hub of distribution for a new drug, "Slo-Mo," which causes users to experience reality at a fraction of its normal speed.
When one of her clan's inner circle (Wood Harris) is captured alive, Ma-Ma commandeers the compound's control center, seals it off and puts a bounty on the judges' heads. Unable to get out or reach reinforcements, Dredd and Anderson choose to try to battle their way up to the top.
This iteration of Dredd is a darker, more visceral incarnation of John Wagner and Carlos Ezquerra's comic book character than the effort starring Stallone. While comparisons to Doom, Robocop and Max Payne are apt, the movie's hectic, bottled, vertical assault strongly recalls the recent The Raid: Redemption, except with more sci-fi trappings.
Director Pete Travis (Vantage Point) orchestrates a fine array of action set pieces. He's aided by the fact that Dredd's weapon is capable of firing six different types of ammunition, allowing for a wide assortment of mayhem and kills. Working with cinematographer Anthony Dod Mantle, Travis also makes solid use of the film's 3-D. The narrative inclusion of "Slo-Mo" fits the effect hand-in-glove, allowing for painterly images that approach art, and certainly stand apart from their contemporary action movie brethren.
At a certain point, though, the novelty of this wanes a bit, as Dredd's trouble locating a fifth gear becomes obvious. Screenwriter Alex Garland never entirely figures out a way to integrate or define the parameters of Anderson's mindreading except in convenient fits and starts, and the third act inclusion of rogue corrupt judges feels generic and uninspired.
Thirlby is not the most obvious casting choice, and is hampered a bit by her underwritten character. Headey, meanwhile, exudes a nasty, cool menace, in counterbalance to the movie's pummeling sound design.
Eschewing any of the vanity associated with the previous adaptation, Urban keeps on his mask throughout, and still ably communicates a steely resolve. The eyes may be the window to the soul, but Dredd reaffirms there are other portholes as well — posture and gait among them.
Production companies: Reliance Entertainment, DNA Films, IM Global
Domestic distribution: Lionsgate Pictures
Producers: Andrew Macdonald, Allon Reich, Alex Garland
Executive producers: Deepak Nayar, Stuart Ford, Adi Shankar
Co-producer: Michael S. Murphey
Co-executive producer: Michael Elson
Associate producer: Joanne Smith
Screenplay: Alex Garland, based on characters created by John Wagner and Carlos Ezquerra
Cinematography: Anthony Dod Mantle
Editor: Mark Eckersley
Production designer: Mark Digby
Music: Paul Leonard-Morgan
Special effects supervisor: Max Poolman
Visual effects supervisor: Jon Thum
Website: www.DreddTheMovie.com
Main cast: Karl Urban, Olivia Thirlby, Lena Headey, Wood Harris, Langley Kirkwood, Junior Singo, Luke Tyler, Jason Cope, Domnhall Gleeson, Warrick Grier