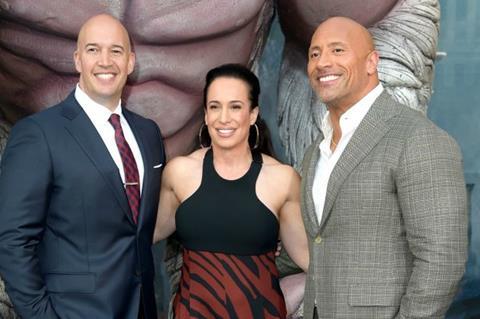 Jumanji: Welcome To The Jungle star Dwayne Johnson and director Jake Kasdan are set to reunite on a family feature for Netflix about John Henry and other folklore figures from around the world.
Currently titled John Henry And The Statesmen, the project is an original pitch from Lego: Ninjago Movie writer Tom Wheeler to which Netflix has secured the rights. The pitch was developed with Hiram Garcia, president of production at Seven Bucks Productions, who will produce with Kasdan, Dany Garcia and Beau Flynn of FlynnPictureCo.
Johnson will also be a producer and star as John Henry, the African-American folk hero famed for his prowess as a nineteenth century steel-driver on the American railroad. An ensemble cast will portray other legendary figures from different parts of the world.
Seven Bucks and FlynnPictureCo recently wrapped Johnson's Jungle Cruise for Disney and Johnson and Seven Bucks are currently filming Universal's Hobbs and Shaw in the UK.
Kasdan is in pre-production on a sequel to Jumanji: Welcome To The Jungle, which Sony will release in December 2019.
Commenting on the John Henry project, Johnson said: "Netflix is the perfect partner and platform for us to continue entertaining our global audience in a disruptive way. These diverse characters speak to a legacy of storytelling that is more relevant than ever and span across a worldwide audience regardless of age, gender, race or geography."
Dany Garcia added: "We have been committed to an international storytelling model for more than a decade. Our partnership with Netflix is giving us an incredible opportunity to reach a broad and diverse audience in the most accessible and intimate manner. We are absolutely thrilled with the opportunity."