Dir: Doug Liman. US. 2014. 113mins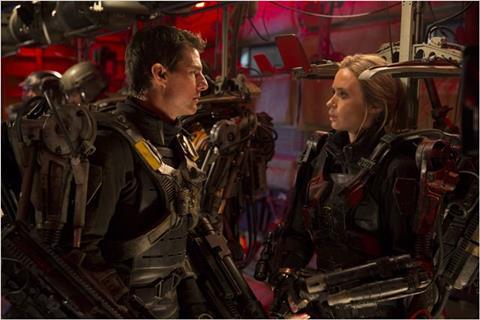 The Tom Cruise affinity with sci-fi action films shows no sign of abating and he is in playfully good form in Doug Liman's engagingly freewheeling futuristic romp that is essentially a coming together of Groundhog Day and Aliens. It is big, bold and breezy entertainment that moves at a cracking pace, offers plenty of fun to balance the sci-fi excesses, and while it finds itself up against hefty competition in the forms of Godzilla and X-Men at the box office it will likely carve out a typically hefty international share.
It is nice seeing Cruise segue way from cowardly backroom PR man to gung-ho action man.
Smartly re-titling the source novel (All You Need Is Kill by Hiroshi Sakurazaka) Edge Of Tomorrow, the structure – a la Groundhog Day – offers plenty of material for re-examination of a specific point in time, but setting it against a futuristic alien invasion backdrop means there are plenty of options for action entertainment. As with pretty much any time-shift story there plenty of 'why didn't they do that' moments, but that is the name of the game. Luckily the film too fast as it weaves its story together to worry too much about such things.
Tom Cruise may well be getting on a bit, but he still has the style and physical determination to make the most of his action hero roles, and certainly Edge Of Tomorrow is a pretty demanding role, with his character the spine of the entire film in amongst the aliens, explosions, gun-play and general sci-fi mayhem.
The film is set in a near future, with Earth under attack from an alien invasion but with humankind doing their best to fight back. Public relations expert Lt Col Bill Cage (Cruise) does his bit by crafting a marketing spin to give people hope, with his material suggesting the fight-back is looking good, and creating a hero for the public to love in the form of tough-but-beautiful fighting legend Rita Vrataski (Emily Blunt). Cage is summoned to London – cue a great shot of him arriving in a helicopter that lands in Trafalgar Square – to link with the planned invasion, but is shocked to be told he will be part of the first wave on the beach so he can report back the good news of how this secret counterattack is going.
The cowardly Cage refuses to take part, and is promptly busted to private and sent off to be part of a team of rejects who will be first into battle in any case. In mid-battle he briefly meets Vrataski, but after shooting an alien he is promptly killed…only to find himself living the past day all over again – fighting and dying day after day, and having to try and learn how to find a way to survive and maybe even take out those pesky aliens.
Just like Groundhog Day these fresh versions of the same day are many and varied. Sometimes he dies within a few minutes of starting his day; sometimes he escapes the traditional timeline and heads off somewhere else, but in the end he comes to realise that his life is inexplicably linked to alien he killed and more importantly to the invasion. Eventually he has to settle down to trying to work out a way to get rid of the aliens, each day having to recruit Rita to help in on his cause.
The fresh dilemma facing him each day is what gives the film its energy, and it is nice seeing Cruise segue way from cowardly backroom PR man to gung-ho action man. Emily Blunt, though striking as always, has a much more straightforward role, while Bill Paxton (in a nice Aliens link) has fun as the sergeant in change of the rag-tag squad Cage gets assigned to.
London of the near future is impressively presented, and in a clear link to the allied invasion of the Normandy beaches of World War II this future attack echoes the hellish brutality of men at war with men – some sporting an advanced military exo-skeleton that will supposedly help win the war – blown apart just as those allied soldiers were in Saving Private Ryan.
The film comes close to running out of steam as its need for re-invention weighs heavily as it hits the last third, but as it spirals towards an action-packed climax in the levels beneath the Louvre in Paris it regains much-needed energy and ends up an smartly assembled sci-fi film that is breezily exciting if never intellectually challenging.
Production companies: Warner Bros., Village Roadshow Pictures, 3 Arts Entertainment, Translux, Viz Media
Distribution: Warner Bros
Producers: Jason Hoffs, Gregory Jacobs, Tom Lassally, Jeffrey Silver, Erwin Stoff
Executive producers: Hidemi Fukuhara, Joby Harold
Screenplay: Christopher McQuarrie and Jez Butterworth & John-Henry Butterworth, based on the novel All You Need Is Kill by Hiroshi Sakurazaka
Cinematography: Dion Beebe
Editor: James Herbert
Production designer: Oliver Scholl
Music: Christophe Beck
Main cast: Tom Cruise, Emily Blunt, Bill Paxton, Brendan Gleeson, Noah Taylor, Lara Pulver, Charlotte Riley, Jonas Armstrong, Marianne Jean-Baptiste