The second feature to come out of South West Screen's iFeatures scheme is a romantic comedy set in a Bristol call centre, starring Brit actors of the moment Tom Hughes and Ophelia Lovibond.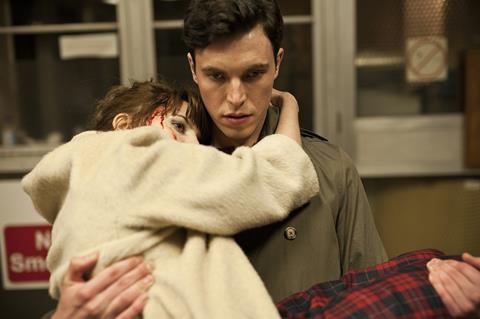 Synopsis: When Dan (Hughes) finds himself kicked out of the family home, he's faced no option but to secretly move into the call centre where he works, whilst falling in love with one of his colleagues Teri (Lovibond) at the same time.
Director: Mark Simon Hewis
Writers: Matt Thorne (from his own novel) and Nicholas Blincoe
Producer: Sarah Cox of ArthurCox Productions
Cast: Tom Hughes and Ophelia Lovibond, Montserrat Lombard, Divian Ladwa, Jack Ashton, Antonia Thomas, Pippa Haywood, Paul Kaye
Financing: South West Screen (via the iFeatures scheme), BBC Films, UKFC, Matador, Bristol City Council
Countries Of Production: UK
Filming locations: The Bottle Yard Studios and on location in Bristol
Status: Shooting for four weeks from March 21-April 16
International sales: Content Film
Distribution: BBC has UK TV rights
Eight Minutes Idle is the second film to go into production as part of South West Screen's microbudget iFeatures scheme, following Into The Dark Half, which is currently in post. The third and final feature to come out of the scheme, which has greenlit three Bristol-set features on a budget of $484,000 (£300,000) each, is romantic drama Flying Blind, which will go into pre-production in July.
Based on the novel by Matt Thorne, Eight Minutes Idle is the feature directorial debut of Mark Simon Hewis, who was brought on board by producer/director Sarah Cox. "Originally I thought it might be something I would direct, but then I read the book and instantly thought of Mark because of the dark humour and wryness. I knew he would get it" explains Cox, who runs her own animation company, ArthurCox, in Bristol.
She was introduced to the book by Thorne's friend and fellow novelist Nicholas Blincoe, who she met online via a music sharing club and who liked the look of her animations.The team then decided to pitch it to iFeatures.
With over 550 applications for the scheme, Cox didn't think they stood a chance.
But the iFeatures team, headed up by Chris Moll, saw its potential: "If you try and do an office-based comedy, people think it's going to look like something for TV, but actually, it's incredibly cinematic, and that is something which appealed to us. The reference point is movies like Punch Drunk Love or Buffalo 66, films that don't conform to the stereotype of a romantic comedy."
It certainly looks set to be a nice showcase for Cemetery Junction actor Tom Hughes, who is in every scene in the film. "Dan is not typically the guy that a film would be written about. He's got lots of different layers. It's a real challenge for me," says Hughes who adds that the script is "just beautifully written and thought out."
His co-star Ophelia Lovibond might be making waves in Hollywood with credits including No Strings Attached and the upcoming Mr Popper's Penguins with Jim Carrey, but she says there are benefits to working on a low budget British feature. "On a big studio movie there is so much red tape. On this you feel like everyone has input and everyone is being heard."
Hewis also seems to be unfazed by the film's small budget: "We always said we wanted to do something that felt more like an American indie, something effortlessly fashionable and good looking. So it's about limiting the shots we do and making sure every one is brilliant!"
Cox adds that the team have been able to make big savings on the locations by hiring out Bristol's new studio The Bottle Yard and renting a scout hut by the river for the bargain price of $65 (£40) a day.
And how has Hewis found the step up from making shorts to features? "I thought it would be tougher," he says. "When you do a short film you are the one who has to make sure everyone has got a drink. Here, all you worry about is whether it looks good. That feels like an amazing luxury."
Looking ahead Moll thinks the film would be a good fit for Toronto. "It's slick, it's stylish and it's got two very attractive leads."
Next up: Sarah Cox is directing a 30-minute animated film for Aardman as part of the Tate Movie Project. She has spent the last six months doing art workshops at schools and is in the process of collating all the drawing together to create the film. Chris Moll hopes to take the iFeatures scheme onto a national level and is currently in talks with the BBC to see how it might work.