Canadian filmmaker Elisa Paloschi is premiering her film, Driving With Selvi, at Raindance tonight (Sept 28) in London.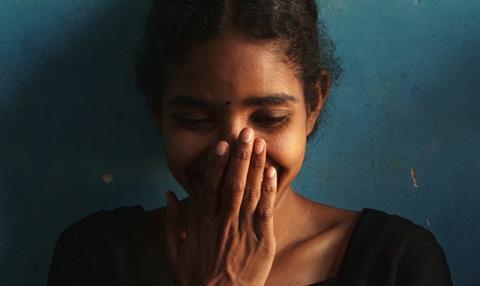 Ten years in the making, the film opens with Selvi in 2004 at a shelter for young women in Mysore, Karnataka, shortly after she has run away from her husband - a timid, softly-spoken 18-year-old rejecting a life she describes as "torture".
As the years pass by, the film captures her extraordinary transformation as Selvi finds her voice and defies all expectations – learning to drive, starting her own taxi company, leading seminars to educate and empower women in rural areas, marrying again (this time by choice and for love), becoming a mother and, to Selvi's absolute delight, obtaining her license to drive a passenger bus.
Here is Elisa's story of filming with Selvi…
There's no rule in India that women must keep on suffering. That's what my hopes and plans are all about.
In 2004 I travelled to India for the first time. I didn't set out to make a documentary; I hadn't made a film in ten years. But as a tourist, I was feeling disconnected, and I wanted to become more involved with the community on a deeper level. I began to spend time each day at Odanadi, an NGO that works to assist girls and women who have escaped gender-based violence.
It was here that I met Selvi, then 18 years old, who had recently run away from an abusive child marriage she'd been forced into at 14. She was part of a collective of women who were learning to drive and setting up a taxi company. I was immediately drawn to the sparkle in Selvi's eyes, so rarely seen in someone who has suffered so much by her age. It was her courage, strength, and drive to be an agent of change in her own life that inspired me to borrow a camera and attempt to better understand the journey she was undertaking.
After meeting Selvi, I returned again and again to India, and each year I assumed it would be my last. In retrospect that was naïve – the healing I was privy to observe with Selvi doesn't fully happen in a year, or even two or three. This is a film that follows the rhythms of life. It's an incredibly personal story and it required time to bear witness to Selvi's transformation.
I've learned that unscripted documentary in India is a true adventure. I've also learned that it's almost impossible to fund documentaries, and great patience is required for both. For the first few years I visited, I was self-funded, and it was only in 2008 that I received my first grant from the Ontario Arts Council.
This grant allowed for my full editorial control, which allowed for creative control and time to develop my vision. Next came grants from the Canada Council for the Arts, Chicken & Egg Pictures and numerous others, and eventually we ran a successful Indiegogo campaign.
The life of the film has just begun, with Raindance being the world premiere – we have a string of festival appearances coming up this fall around the world (some announced, with more to come). But long before I completed the film, I was developing an audience engagement and impact campaign.
In 2013, I had the good fortune to be invited to Good Pitch Europe, which boosted the film's visibility and helped me to define my goals. Then came support from Fledging Fund and the Bertha BRITDOC Connect Fund, and I was able to start moving forward.
The audience engagement campaign will build on the narrative of the film to support women and girls' resilience, empowerment, and economic opportunity in the face of patriarchy in India.
It's meant to support the millions of Selvis out there searching for a better life – and allow our audience to contribute to the solution. Both Selvi and I believe the film will be a significant tool to inspire transformation on both the personal and societal level.
Our plans include taking the film into remote communities in India where young women are most at risk of child marriage and other forms of violence and discrimination. The film will also be used to support programs that help women and girls to train in non-traditional livelihoods.
We've launched a second Indiegogo drive for this campaign.
Selvi has said it best: "There's no rule in India that women must keep on suffering." That's what my hopes and plans are all about.
Driving With Selvi screens at Raindance Film Festival tonight (Sept 28) and Wednesday (Sept 30).