Netflix's 10-part original series The Haunting Of Hill House is one of the most visually striking productions on television. Produced by Amblin Television and Paramount Television, the series is about the misadventures of the Crane siblings and is told in flashback to 1992 where, as children, they were terrorised by the spirits who inhabited their sprawling Hill House home, and in the present day, where the events of that time continue to haunt them.
The Haunting Of Hill House was adapted by creator Mike Flanagan from the 1959 novel by Shirley Jackson and its innovative look owes a lot to the work of the series' Argentinian production designer Patricio Farrell.
"Hill House itself is based on the [homes of the] robber barons of the Gilded Age," Farrell reveals of his initial approach to designing the show's centrepiece location.
"These were millionaire families who would try to bring all these worldly elements together in their homes," he explains. "They had different styles; Victorian, Gothic, Moorish. That was a big advantage, as the script dictated that this house had to have this schizophrenic nature."
Farrell had already dipped into the eerie world of Shirley Jackson when he worked in the art department of Jan de Bont's 1999 big-screen adaptation of Jackson's story, The Haunting, and has also worked before with Flanagan on Ouija: The Origin Of Evil in 2016 and his upcoming Shining prequel Doctor Sleep.
"The main challenge was to be able to recreate the gigantic scale of this mansion," he continues. "By knowing how Mike works, and that there's such a high number of camera moves, I knew I had to give him space. I knew [the house] was going to be as big as we could build it."
While the exteriors of Hill House were shot at Bisham Manor in LaGrange, Georgia, all of the interiors were built on sound stages in Atlanta, where the crew shot for nine months. Unusually for such a project, the Hill House set was an expansive, two-storey construction, with multiple rooms, moving walls and staircases.
"Something that I discovered more than ever before is that sets are both emotional, as an environment for the action, and they are also mechanical," says Farrell of the practical intricacies of the sets.
"We had a big bible of all the walls that could move, and how they could move. Most of the second storey walls were on motor chains that could be lifted. So we would take off a piece of the base moulding, unscrew the brackets and then the walls could go up and down on a railing system.
"We also had a lot of geometrical shapes made with beams. Sometimes this was for practical reasons, to hide lights, but it would also make these shapes that would look like they were looming over you."
The intricacies and innovations of the working space had a big impact on the cast.
"It's the first time I've been on a set that was so fully functional," says UK actor Oliver Jackson-Cohen, who plays the older Luke Crane.
As the youngest of the Crane siblings, Luke and his twin sister Nell (played by Victoria Pedretti) are the most affected by their childhood experiences; as an adult, Luke has turned to heroine addiction in an attempt to numb the pain.
"Hill House was an actual house; you could go up the stairs, and there were all of these hidden places for camera and crew to hide," Jackson-Cohen reveals. " Once you are inside, you cannot leave Hill House unless you remove a wall! And if you stare at the wallpaper long enough, you start to see faces. There was something incredibly ominous about that."
Pieces of a puzzle
Farrell's attention to detail extended beyond Hill House to the modern-day sets which, in terms of their colour palette and overall atmosphere, all feel like pieces of the same puzzle. "That's a big part of the job of a production designer, to create someone homogenous," notes Farrell.
A particularly key set is that of the funeral parlour owned by Crane sibling Shirley (played by Elizabeth Reaser), in which the pivotal sixth episode was filmed in three long 20-plus minute takes, including a seamless flashback to Hill House.
"The first time we shot in the funeral home, I was sitting on the couch and I started to feel nauseous," recalls Jackson-Cohen of the meticulously-choreographed episode, which took three weeks of intense rehearsal for both cast and crew.
"I felt nauseous all day. I was talking to Mike about it, and he said 'That will be the colours. They had picked this subtle, sickly colour scheme which was really effective."
For Farrell, that particular episode, with its unbroken takes and 360-degree camera movement, was as much a challenge of movement as it was design. "The funeral parlour was built on a stage right next to the one where we built Hill House," he says. "We knew that they were going to have to be connected, and it took a lot of precision to align the sets in such a way that, during that episode, we could go through an actual stage door from one to another, keeping with all the fire line concerns and all of the other laws we can't break when we are shooting!
Seeing red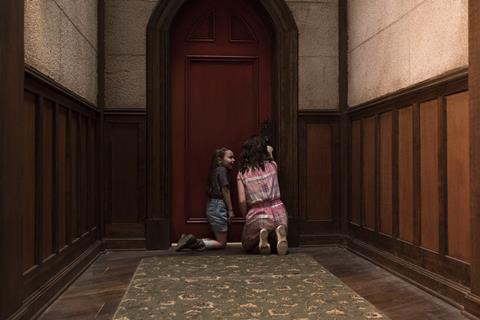 One of the most important features of Hill House was the Red Room which held particular personal significance for each member of the Crane family as both child and adult, adjusting itself in line with their emotions and desires while still maintaining its proportions. As characters and audience alike are only made aware of this pivotal secret in the show's climactic final episode, Farrell had to keep subtlety at the forefront of his design.
"We have the wainscot that runs around the walls, and it had a different wood treatment or was a different material [for each room]. But that line was always there," he says.
"Then of course there's the window, the only narrow window in the house. It had to be something that would bring some light in, as well as being a decorative element, but it couldn't be large enough for them to escape, or to throw themselves into the abyss. Mike came up with the idea of having a little hairline crack on the glass, so in every interpretation of the room we had that crack. In the treehouse, where they obviously didn't have glass, we put a little twig that was the same shape as the crack."
For Jackson-Cohen, the Red Room held a particular significance as it book-ends Luke's devastating trajectory from the childhood innocence of playing in the treehouse to the emotional devastation of the hotel room in which he attempts to save a drug-addicted friend.
"I don't think I registered it," he says of the true nature of the Red Room. "Then I read the script for episode 10, and I was blown away! It's so clever; the tiny window, the crack. It makes you feel stupid when you realise! I remember being there when they were doing the treehouse stuff, as it was one of Julian Hilliard's [who plays young Luke] first days. I remember seeing that the trap door that little Stephen opens up to go into the treehouse is red. And then realising that Luke's shoes in the hotel room are red. It's just these small things that Patricio and Mike did that are so very clever."