Dir: Kevin Lima. US. 2007. 107mins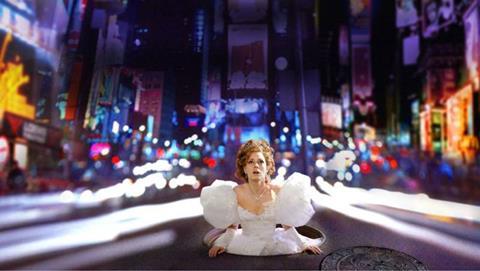 Amy Adams announces herself as a viable new commercial leading lady in Enchanted, a genial familyfilm which finds animated fairytale characters thrust into the real world. The ironic tweaking of filmconventions hit the fairytale subgenre in 2001 with Shrek, and has continued since in animated fareHoodwinked and Happily N'Ever After. Enchanted, however, extends the practice into live action, andwhile the story at its core is essentially a familiar one, it's told with such pleasant aplomb, mixing in afew spry musical numbers, that it leaves a smile on one's face.
Alan Menken and Stephen Schwartz's collaboration provides some instantly hummable tunes that already have the familiar ring of classics by the time of their end credits reprisal.
The Disney brand, combined with warm word-of-mouth, has already made Enchanted an out-and-out holiday hit, with a worldwide take of over $78m since December 2nd. Strong cable and ancillary market earnings will make the movie a solid catalogue earner geared toward the 'tween' demographic for years to come.
Enchanted opens with an eight-minute animated sequence in which the fetching, innocent Giselle (Adams) wistfully sings of waiting for 'True Love's Kiss, an appeal that is answered by Prince Edward (Marsden), an enthusiastic and amorous if somewhat dim adventurer. In storybook fashion, the pair's marriage is immediately set for the next day. This worries Edward's evil stepmother, Queen Narissa (Sarandon), who wants to keep all the power of the throne for herself. She dumps Giselle into a wishing well which promptly deposits her in New York City.
There Giselle meets single father Robert (Dempsey) and his six-year-old daughter Morgan (Covey). They offer Giselle a place to stay while she waits for Edward to come rescue her, an act of kindness that complicates matters with Robert's girlfriend Nancy (Menzel). As Giselle's unflaggingly sunny optimism wears off on Robert and their friendship deepens, he teaches her about quaint real-world courtship like 'dating.'
The queen, meanwhile, sends her smitten lackey Nathaniel (Spall) after the blithely unaware Edward to prevent any rescue of his bride-to-be. She provides Nathaniel with three poisoned apples and tasks him with finishing off Giselle before eventually deciding to take matters into her own hands.
Adams is a smart, supremely cosy fit for the wide-eyed Giselle and her performance is both radiant and engaging. With her hair piled high, she appropriates animated fairy tale posture and body movements, deploying the same sort of charismatic naivety that was at the core of her Oscar-nominated performance in the independent film Junebug. In an industry always on the lookout for leading ladies innately likeable and yet still comedically adroit enough to topline romantic comedy vehicles, Adams is a prime candidate for promotion to the front of the line.
Written by Bill Kelly (Premonition), the movie has just enough parallel adult grounding to serve the story (Robert is a divorce attorney) and its oblique references give Enchanted an extra, winking dimension and shading without making it seem at all bawdy. (Passing mention is made of 'what boys want,' and after a misunderstanding that ends with her on top of Robert, Giselle charmingly thinks Nancy is upset because she believes she and Robert kissed.) There are a few plot holes and certain conveniences are leaned on hard, particularly in the movie's finale, but Kelly also finds a few amusing ways to contrast the two worlds as when Giselle's morning aria ('The Working Song') is answered by rats, roaches and other big city vermin, as opposed to the woodland critters of the movie's opening animated segment.
Tarzan co-director Kevin Lima's background in animation serves him well as he helps the cast remain true to the earnest theatricality characteristic of such films. He also oversees, with seamless precision, a park-set sequence that evolves into a full-fledged musical routine.
Alan Menken and Stephen Schwartz's collaboration, meanwhile, provides some instantly hummable tunes that already have the familiar ring of classics by the time of their end credits reprisal.
Technical credits are equally top-notch. The fairy tale characters' costumes by Mona May work as visual counterpoint to some of the action, eliciting laughs from the audience - especially when Giselle fashions new dresses from Robert's drapes. Make-up and effects maestro Rick Baker does wonders with a special old hag get-up for the scheming Queen Narissa.
To sign up for Screen's weekly Reviews Newsletter with all the week's new releases, international openings and full festival reviews delivered free to your mailbox every Friday, please click HERE
Production companies/backers
Walt Disney Pictures (US)
Josephson Entertainment (US)
Right Coast Productions (US)
US distribution
Walt Disney Pictures
International distribution
Buena Vista International
Producers
Barry Josephson
Barry Sonnenfeld
Executive producers
Chris Chase
Sunil Perkash
Ezra Swerdlow
Animation producer
Ron Rocha
Co-producer
Doug Short
Screenplay
Bill Kelly

Cinematography
Don Burgess
Production designer
Stuart Wurtzel
Editors
Stephen A Rotter
Gregory Perler
Music supervisor
Dawn Soler
Music
Alan Menken
Songs
Alan Menken
Stephen Schwartz
Costume
Mona May
Main cast
Amy Adams
Patrick Dempsey
James Marsden
Timothy Spall
Idina Menzel
Susan Sarandon
Rachel Covey