Dir/scr: Andrea di Stefano. France-Belgium-Spain. 2014. 120mins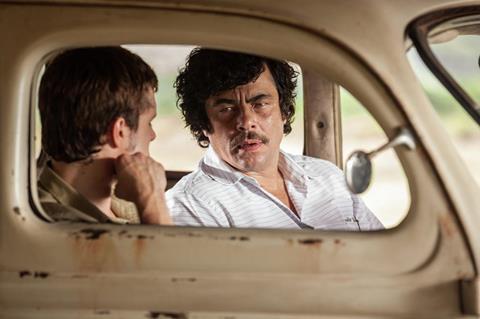 Pablo Escobar, Colombia's one-time king of cocaine, was legendary for his cruelty and treachery, and also for the warmth and generosity of a Latin Robin Hood. He's a coldblooded thug in this drug thriller, written and directed without a drop of nostalgia by the veteran actor Andrea Di Stefano.
Del Toro knows how a cynical killer can put a chill in the air, even in the tropics.
Outlaws don't come much nastier than Escobar, dead in 1993, whose notoriety peaked as a top enemy of the US between the fall of communism and the rise of Islamic terrorism. Benicio Del Toro plays him as a frightening hulk in Paradise Lost, yet this competent narco-drama will struggle to attract today's audience to cinemas. Spanish-language markets should still be strong, as should VOD once the youth audience discovers how violent this bloodbath is.
Call it 'Married to the Colombian Cartel', Di Stefano streamlines the unwieldy Escobar biography by telling the story through the eyes of Canadian surfer Nick (Josh Hutcherson), who falls for Colombia's pristine Pacific coast, and then falls for Escobar's dark-eyed niece, Maria (Claudia Traisac). When the bodies start piling up, Nick learns that he's in too far. Then things get a lot bloodier.
Di Stefano directs his own script close to the boilerplate of the standard tale of an earnest gringo who finds that bloodletting runs in the family that he's married into. When the surfer who seems like a big boy scout learns how to handle a gun, his odds get better.
Del Toro in the role of the portly coke king raises this narco kill-fest above the level of a film made according to a cook book. Directed by Di Stefano, an actor, the Spanish star (who also produced) plays Escobar as a flaky buddy/bully whom you can't keep from watching, complete with ranch with a zoo like Michael Jackson's Neverland and heartfelt affection for his family (and for Nick and Maria), until he has other plans for them.
Colombia here does indeed look like paradise, although Di Stefano pivots from initial beauty-shot exoticism to show you a land that turned into the world's murder capital, where much of the population lost its conscience about killing and gunfire clearcuts the landscape.
As Nick, Hutcherson (another producer) plays to well-meaning type as the guy who doesn't quite understand the culture of his adopted home – like one of endless variations on Joseph Cotten in The Third Man. Like Orson Wells in that much imitated film, Del Toro knows how a cynical killer can put a chill in the air, even in the tropics. Traisac has a winning smile and can turn on the tears, but the script doesn't give her much to work with.
Cinematography by Luis Sansans is solid, although a bit oversaturated, the better to spread blood and sweat all over the screen. Di Stefano and his team make the audience feel as if it's wading through terror-torn Colombia. Their challenge is that Escobar's era of narco-terror is a faint memory, given all the terror that's come since.
Production companies: Chapter 2, Pathé Production, Orange Studio, Roxbury, Paradise Lost Film A.I.E, Nexus Factory, Umedia, Jouror Developpement
International sales: Pathe International, themba.bhebhe@pathe.com
Producer: Dimitri Rassam
Executive Producers: Benicio del Toro, Josh Hutcherson, Moritz Borman
Cinematographey Luis Sansans
Editor: Maryline Monthieux, David Brenner
Production designer: Carlos Conti
Music: Max Richter
Main cast: Benicio del Toro, Josh Hutcherson, Claudia Traisac, Brady Corbet, Carlos Bardem, Ana Girardot