Berlin's venerable Studio Babelsberg is playing a key role in Germany's production upturn. Now it is looking to strengthen its offer as a co-producer.Martin Blaney reports.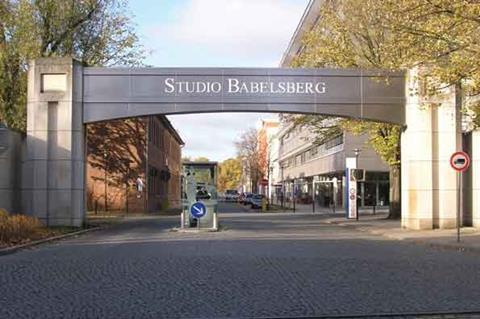 Even the average Berliner knows business is booming at the Babelsberg studios on the outskirts of town, with the local newspapers regularly full of titbits about the stars working or playing in the city.
With the influx of international projects setting up in Germany, it is the 98-year-old Studio Babelsberg that has so far been luring the lion's share of production. Its creative renown — Quentin Tarantino called it "the best film studio" after shooting Inglourious Basterds there — plus its abilities as a financial partner and its proximity to a diverse range of locations are among the reasons why.
Despite a quiet second half of 2009, four films have gone into production at Studio Babelsberg so far in 2010. First up were the first two productions in the strategic alliance Studio Babelsberg struck with US producer Joel Silver's Dark Castle Entertainment: Todd Lincoln's horror film, The Apparition, and Jaume Collet-Serra's political thriller Unknown White Male. These were followed by Roland Emmerich's Shakespeare whodunit Anonymous, and Joe Wright's adventure thriller, Hanna, which both started shooting in March. All four have Studio Babelsberg on board as a co-producer.
New generation
"It's been a very good collaboration [with] easy communication," says Volker Engel, co-producer and VFX supervisor on Anonymous, about his experiences of working at Babelsberg. "The last time I had worked with a German crew was in 1994, before I went to the US for Independence Day, but there's a whole new generation now who deliver that 'Made in Germany' quality. With every discussion with Babelsberg's art department we never had anything like, 'We can't do it.'"
One of the largest studio complexes in Europe with 16 soundstages over 25,000 square metres, Studio Babelsberg is increasingly co-producing projects — part of its future growth strategy as a way of guaranteeing production in a highly competitive international landscape.
"It is encouraging that we are not just getting historical Second World War stories, but have a film like Unknown White Male where the city of Berlin is so prominently featured," says Henning Molfenter of Studio Babelsberg Motion Pictures. "And Hanna, with its story about German identity and collaboration with various secret services is a very modern story that fits here perfectly."
In December 2008 Babelsberg signed a co-production agreement with Dark Castle, with the studio investing $10m for a total of 15 films — budgeted between $10m and $40m — for a planned cumulative overall budget of around $250m and a stipulation that around 10% of this total is to be spent on services provided by Studio Babelsberg.
"We don't finance project-by-project, but invest in the slate as a whole which means we're co-producers of all these films and also participate in the revenues," says CEO Carl Woebcken, who engineered a takeover of the studios with business partner Christoph Fisser in 2004 and has had Studio Babelsberg AG listed on the Frankfurt Stock Exchange since April 2005.
The first films to be completed in the Dark Castle slate include Guy Ritchie's RockNRolla, Jaume Collet-Serra's Orphan and Dominic Sena's Whiteout.
Babelsberg's management is looking to forge similar deals with other producers while TheManipulators venture with Celluloid Dreams is a bid to diversify the kind of productions coming to shoot on its stages (see right). The first project to be produced under TheManipulators is set to be Waiting For Azrael, the first live-action film by Marjane Satrapi and Vincent Paronnaud. The film starts shooting this summer.
'Act global, spend local'
Meanwhile, involvement as the German co-producer in such large international productions as The Reader, The International, Valkyrie and Inglourious Basterds has enabled Studio Babelsberg to remain true to its motto of 'act global, spend local'. Projects qualifying as German attract automatic 'reference' funding from the German Federal Film Board based on German admissions and other factors. Babelsberg has been investing this finance in smaller German and European projects which it co-produces. Recent productions benefiting from this co-production strategy have included Ole Christian Madsen's Flame & Citron, Uberto Pasolini's Machan, Matti Geschonneck's Boxhagener Platz and Harald Sicheritz's Lilly The Witch 2.
Last month around $2m (€1.5m) in annual reference funding was paid to the studio for investment in future projects which can be filmed completely or in part at the studio lot. In addition, Babelsberg has attracted almost $67.3m (€50m) in grants from the DFFF's 'German spend' scheme since its founding in January 2007, ranging from $12.1m (€9m) for Speed Racer through $7.8m (€5.8m) for Inglourious Basterds to $5.9m (€4.4m) for Anonymous. ns
Babelsberg 2010
Shoots at the Studio
The Apparition (Dark Castle, Studio Babelsberg)
Dir Todd Lincoln. Shot in February.
Unknown White Male (Dark Castle, StudioCanal, Studio Babelsberg)
Dir Jaume Collet-Serra. Shot January-March.
Hanna (Focus Features, Studio Babelsberg)
Dir Joe Wright. Shooting March-June.
Anonymous(Anonymous Pictures, Studio Babelsberg)
Dir Roland Emmerich. Shooting March-June.
Hidden(Schmidtz Katze Filmkollektiv, Hidden Films/The Film Works, Zebra Film Studios)
Dir Agnieszka Holland. Shot in January.
Waiting For Azrael (TheManipulators)
Dirs Marjane Satrapi, Vincent Paronnaud. Shooting summer.
Love Berlin: How We Met (The Very Useful Company/Sherazade Films, DCM Mitte Productions, Visitor Pictures, Studio Babelsberg, Stefan Piech)
Dirs Various. Shooting summer.
Case study: Hanna
Attracting Joe Wright's thriller Hanna to Studio Babelsberg was "based on [a] long relationship with Focus Features," says Henning Molfenter, one of the film's co-producers along with studio executives Carl Woebcken and Christoph Fisser.
Set partly in Germany, the film tells the story of a young girl trained by her father as the perfect assassin and sent across Europe on a mission to kill. Saoirse Ronan stars alongside Cate Blanchett and Eric Bana.
"Germany provided a versatile backdrop for our project, which had scripted locations in Sweden, Denmark, Poland, France and Germany," says Jane Evans, executive vice-president for physical production at Focus Features. "We were encouraged by Babelsberg, our German co-producers, that local subsidies would justify the costs involved in moving around the country."
She notes, however, that "it is important to know that decisions from the local subsidy boards take
time and I would advise anyone going to Germany to plan long in advance." She explains that the production has "to date been denied the FFA subsidy and received less than anticipated from Hamburg [$269,000 (€200,000)], the state having given a much larger subsidy to a German-language film. We are resubmitting both applications but won't know the outcome until after the film wraps, which is not the ideal situation."
Roman Polanski's The Pianist, which Focus distributed in North America, was turned down by the FFA, but then received dm1m production support after being resubmitted for consideration by the funding committee.
The Hanna production will also be taking the German crew to Morocco for the final few weeks of filming in May/June and Evans says that "[we] appreciate the DFFF subsidy will cover German goods and services outside of the country".
TheManipulators
Babelsberg's innovative joint venture is designed to lessen the studio's reliance on US fare. Martin Blaney reports
Unveiled at this year's Berlinale, TheManipulators is an innovative production joint venture between Studio Babelsberg, Paris-based production and sales outfit Celluloid Dreams and Munich-based financing engineer Clou Partners. The idea is to focus on medium to larger budget European and international co-productions that can shoot at Babelsberg and help the studio lessen its reliance on US fare.
"The idea is to produce independent films out of Europe with partners on the axis between Germany and France," says Studio Babelsberg CEO Carl Woebcken. "We aim to combine the three financing elements — pre-sales acquired by Celluloid Dreams and its access to talent and projects, soft money from us as the German producer, and private equity collected by Clou Partners — to arrive at 100% financing for European projects to shoot in Babelsberg." Woebcken adds that the partnership may be extended in the future to include another company alongside Celluloid Dreams.
TheManipulators is planning to finance and produce two films a year from 2011 but has one project lined up to shoot from this summer at Studio Babelsberg. Waiting For Azrael will be the anticipated live-action debut by Persepolis directors Marjane Satrapi and Vincent Paronnaud. The film is adapted from Satrapi's illustrated novel Chicken With Plums, about an Iranian musician who wants to die after his wife breaks his instrument.