Dir. Radu Jude. Romania-Netherlands. 2012. 108mins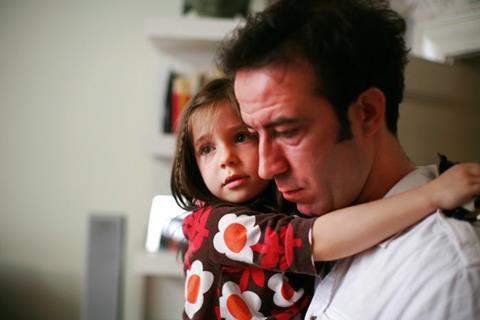 Radu Jude's new family drama has all the advantages and drawbacks of a high quality Polaroid picture. Interesting point of view, authentic feeling, nicely defined character portraits, but also no depth, no beginning or end, just that fascinating single image. Running hot and cold, between short spells of humour and explosions of frustration, it lacks a real plot or structure, but it certainly packs a load of suppressed anger and violence, using the kind of language that no subtitles could do justice to.
To Jude's credit,his characters ring true even when they go berserk.
Rather too long for its own good, Everybody In Our Family (Toata lumea din familia noastra) starts with a premise that will be familiar to everyone, but once established, most audiences would like it to go somewhere, instead of moving in circles, as it does here. Marital strife has apparently replaced the miseries of the Ceausescu regime as the theme of predilection for several Romanian filmmakers.
In Radu Muntean's Tuesday After Christmas a husband tells his wife at the peak of the high holidays that he is leaving her and moving in with his girlfriend, while in Cristi Puiu's brooding Aurora, a man wrecks his revenge on the wife who abandoned him, on her lover and her entire family. Now comes Radu Jude with an exasperated husband willing to declare war on his estranged wife, her mother and her new boyfriend because they try to stop him from taking his daughter to the beach.
Marius (Serban Pavlu) and Otilia (Mihaela Sirbu) separated several years ago in circumstances that do not exactly matter, since each character in this script has his own version of what happened, regardless of the truth. Having lost most of his property in the court settlement, Marius still has the right to visit his five year-old daughter, Sofia (Sofia Nicolaescu), who stays with Otilia, her mother, Coca (Tamara Buciuceanu-Botez) and Otilia's new partner in life, Aurel (Gabriel Spahiu), all of them living in what used to be Marius' old flat.
When he comes to take his daughter on a pre-scheduled hike to the seaside, they all try to prevent it, pretending the girl is sick with high fever. He suspects they're lying, insists on having his own way and before long polite conversations degenerate into vociferous arguments, then into blows and the police are called in at a certain point. But unsurprisingly, the law courteously delays its intervention for a suspiciously long time, which allows Jude to put his characters through a few more swift changes of moods, moving from desperation to wrath, to tearful despair and back again, before the film reaches its inconclusive ending.
Taking place in almost real time, the point of the script seems to be that the ferocious primeval beast dating from Neanderthal times is still lying very close to the surface in every one of us, and one spark - for instance a wish denied - is enough to unleash it.
Thus, the Latin quotes Marius brings up every once in a while, suggesting that he might be an intellectual, are quickly replaced by the furiously delivered vulgar, obscene expletives he frenetically exchanges not only with his wife but also with his father, in an early preparatory scene.
To rub the characters even more the wrong way, almost all the action takes place in the cramped quarters of old-fashioned Romanian flats, every move and action constrained by objects, pieces of furniture, doors and partitions, easily driving the characters up the wall at the slightest excuse.
To Jude's credit, he certainly knows how to handle his cast and manipulate a situation from relative calm sailing into the worst kind of storm. His characters ring true even when they go berserk and the cast, headed by an excellent Serban Pavlu, do a great job, playing their parts, as if they had been born for them.
He builds up and tones down the intensity of the dramatic encounters constantly erupting in his film with the ease of a sound mixer playing with the channels on his console. Pity it all stays in one place and can't make up its mind which way to move. Life may be like that, films aren't.
Production companies: Hifilm, Bucharest
Producers: Ada Solomon
International sales: Films Boutique, www.filmsboutique.com
Screenplay: Radu Jude, Corina Sabau
Cinematography: Andrei Butica
Editor: Catalin F. Cristutiu
Production designer: Elsjie de Bruijn
Main cast: Serban Pavlu, Sofia Nicolaescu, Mihaela Sirbu, Gabriel Spahiu, Tamara Buciuceanu-Botez, Stela Popescu, Alexandru Arsinel