Dir: Nicolas Wackerbarth. Germany-France. 2013. 80mins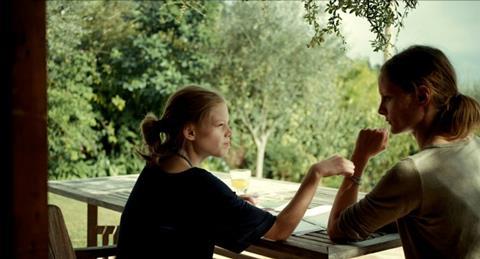 Stories about people having bad times in nice places, especially on holiday, has become a prominent sub-genre of European art cinema – notably, in Joanna Hogg's Unrelated and Maren Ade's Everyone Else. German feature Everyday Objects (Halbschatten) is an impressive, keenly focused addition to this cycle, and while its defiantly low-key mood and lazy pacing will deter all but hardcore art-house distributors, its confidence and style will certainly boost the reputation of director Nicolas Wackerbarth – whose first big-screen feature this is - and impressive lead Anne Ratte-Polle.
Crisply and rigorously shot by Reinhold Vorschneider, the film is a laconic, tightly controlled study of the spaces between people.
Ratte-Polle plays Merle, a young German woman first seen arriving on foot at a villa in the hills somewhere outside Nice, where she's come to meet a man named Romuald. We assume that he is her lover, although their relationship is never spelled out, and in fact we never properly meet Romuald, who for the most part is only a muffled voice on the end of the phone. To Merle's surprise, he's disappeared for a few days on publishing-related business, and she's give the run of his opulent holiday home.
Also present are his two children, 16 year old Felix (Proxauf) and 13 year-old Emma (Bading), both spoiled and sullen, and who seem to resent her presence intensely. Merle half-heartedly attempts to get on with a book she's trying to write, apparently about a 19th-century female botanist but more generally, she explains, about language – appropriately in a film about people's ability or failure to communicate with each other. The rest of the time, the taciturn Merle simply folds into the background of the house, or comes up against an environment that's largely hostile to her – notably in an encounter with a sublimely grouchy baker over her attempt to buy a cake.
Crisply and rigorously shot by Reinhold Vorschneider, the film is a laconic, tightly controlled study of the spaces between people, and in common with Unrelated, is most trenchant when dealing with the experience of a woman awkwardly trying to make a connection with younger people. By and by, Merle manages to forge a complicity with the two children – as they share their resentment against the neglectful Romuald – and later comes out of her shell hanging out with local well-heeled teens. Sexual frissons between her and Felix come to a head with dramatic effect, in what's arguably the only event proper in a film that dares stick to its minimalist guns throughout.
An uncanny ringer for Jodie Foster in certain shots, Ratte-Polle is impressive in a performance that requires her not so much to act as to occupy spaces with enigmatic reserve – although there's a great telephone scene in which Merle at last wryly airs her defiance. The film's English title comes from a game of consequences Merle takes part in, and suggests the way that she quietly becomes a piece of furniture in the house; but the original title means 'Half Shadow', which also describes Merle's semi-visible mode of being. An enigmatic coda – echoing the empty spaces that conclude Antonioni's L'Eclisse - puts the stamp on an intelligent and seductive work that establishes Wackerbarth as a name to watch.
Production companies: unafilm, Les Films d'Antoine
International sales: Rendez-vous Pictures International, contact@rendezvouspictures.com
Producers: Titus Kreyenberg, Antoine Simkine
Screenplay: Nicolas Wackerbarth
Cinematography: Reinhold Vorschneider
Editor: Janina Herhoffer
Production designer: Beatrice Schultz
Music: Olivier Mellano
Main cast: Anne Ratte-Polle, Leonard Proxauf, Emma Bading, Nathalie Richard