Dir: Michael Winterbottom. UK. 2012. 97mins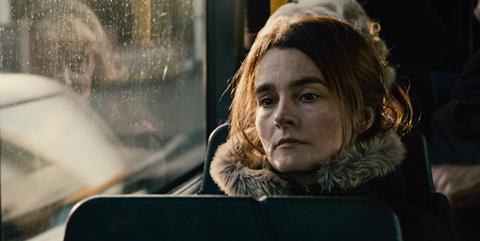 In 1994 Winterbottom made Family, a four-part TV series written by Roddy Doyle, each section focusing on a different member of an Irish working-class family. Once it was edited to feature length, the filmmaker became a known force to watch. Now he's back to a related scenario, a novel approach to the subject of family with the superb Everyday, an observation of the life of a struggling working-class mother, father, and their four young children, but in England.
Here there is glory in the lives of simple, unprivileged folk and the more-or-less banal events of their daily lives.
He filmed it occasionally over five years for authenticity in the kids' performances (all are real-life siblings), whom we see grow and develop in untenable circumstances. The shooting strategy allows him to address the passage of time without formal trickery like jump cuts and flashbacks.
The film is probably best shown on TV or viewing in the intimate atmosphere of one's home. Of course there is much here that could be termed "downer," so any distributors, theatrical or television, have their work cut out for them. The rewards, however, are plentiful—even if anything like the profits of some of Winterbottom's multiple features will be lacking. This is not a project meant to be lucrative.
The father, Ian (Simm), is incarcerated for some unspecified drug abuse; the mother, Karen (Henderson), resides in a different kind of prison. She must serve the brood as both both parents, eking out a living tending bar in a pub, dealing on her lonesome with the problems that come with young, growing children, adjusting to life without a partner. Eddie (Tighe), a pub pal of Ian's, becomes her lover, but he is more of a father surrogate for her kids than anything else. Winterbottom is, as usual, comfortable in a proletarian milieu, his affection undeniable.
The opposition of Ian's confined life in a cell and the open landscapes that the rest of the family take for granted is never schematic. The director finds alluring ways to visualize it—sheep in meadows, wild plants, forests, and beach—and to even call attention to it with outstanding music, short stanzas by Michael Nyman that link the dichotomous settings.
Classical compositions with only a few instruments, they come on at unpredictable moments, reinforcing some narrative point or reinforcing a mood. Here there is glory in the lives of simple, unprivileged folk and the more-or-less banal events of their daily lives. The only other recurring music is the song The Look of Love, which must be a testament to the viability of Karen and Ian's remaining together as a couple through all this.
Karen's life is comprised of early morning lengthy train rides to the prison for a quick visit, sometimes with the children, then a drop-off at their school, going to her job, and at the end of a long day, cooking and cleaning. Multitasking is a necessity for this small bird of a woman, but she handles it well, as maybe only a Shirley Henderson can do so credibly.
Simm has the weaker role, an absent father who is becoming more and more estranged from the kids. It is irritating to hear Ian say "Good to see you" to a four-year-old, but then he is not privy to their everyday activities and interests: There is not much to say. Simm milks his considerable charisma to add some depth to the man. In spite of the circumstances, Karen and the two daughters and two sons live life, whereas the best Ian can do is look at photos of them at school functions or playing outdoors.
He is more someone everyone is waiting for, once the day passes turn into release. He has no job lined up, he and Karen argue, but the final sequence offers hope for a permanent reunion. In spite of the odds, it seems that this family just might be reconstituted.
Production companies: Film4, Revolution Films
International sales: Bankside Films, www.bankside-films.com
Producer: Melissa Parmenter
Executive producer: Andrew Eaton
Screenplay: Laurence Coriat, Michael Winterbottom
Cinematography: James Clarke, Sean Bobbitt, Marcel Zyskind, Simon Tindall, Ann Marie Lean Vercoe
Editors: Mags Arnold, Paul Monaghan
Music: Michael Nyman
Main cast: John Simm, Shirley Henderson, Shaun Kirk, Robert Kirk, Katrina Kirk, Stephanie Kirk, Darren Tighe