Dir: Chienn Hsiang. China. 2014. 94mins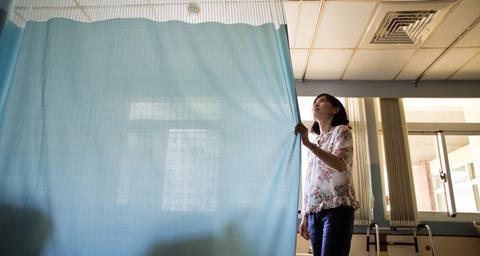 A gently enthralling film about the banalities of middle-aged life, against all the odds – and mainly thanks to a mesmeric lead performance by Chen Shiang-chyi – the astutely-observed Exit offers a quiet and subtle portrait of a woman who finds her own way to conquer hopelessness.
Chen Shiang-chyi's graceful and charming performance defines the film.
On paper it should be a less then enervating film, but it is a smartly observed chronicle of an ordinary woman's struggle against despair. Strong performances and impressive direction could see the film intriguing art house distributors and it is also likely to feature at further film festivals.
With her husband not on the scene, 45-year-old Kaohsiung garment worker Ling (Chen Shiang-chyi) fills her time tending to her crumbling flat, working, bickering with her rebellious daughter (Ming-hua Pai) and visiting her hospital-bound mother.
When she loses her job (she ends up being handed an old sewing machine as her redundancy) and her daughter storms out, her world gets even smaller and she increasingly feels trapped in her faded flat with trips to the hospital her only dubious escape. When menopause starts to have an impact on her she becomes even more introverted.
Caring for her mother, she becomes aware of a man (Easton Dong) on the same ward whose eyes are covered with bandages and seems to be suffering from various injuries and whose moans of pain annoy others on the ward. Eventually she decides to go over to the man and try and wordlessly help him. She holds his uninjured hand and even starts to stroke his chest with a wet flannel to help ease his pain.
There is a real sense of sexual tension – despite the fact that nothing happens – to these moments, which is heightened when the man's eyes are uncovered. She still tends to him, but insists on covering his eyes again, giving her still wordless ministrations a real frisson of repressed sexual energy.
Chen Shiang-chyi's graceful and charming performance defines the film – she also fills her time listening to tango music andn listening to a couple next door having sex and attempting to stick back an errant piece of wallpaper – with small and telling moments helping to remind her and the viewer that she is still a vibrant woman.
Production company: Crazy Wolf International Productions
International sales: Wen Hsaio, +886 916 193 883
Producer: Pao-ying Chan
Cinematography: Hsiang Chienn, Fang-hoo Hsu
Production designer: Penny Pei-ling Tsai
Music: Summer Lei
Main cast: Chen Shiang-chyi, Easton Dong, Ming-hua Pai