Dir: Mohamed Khan. Egypt-UAE. 2013. 92mins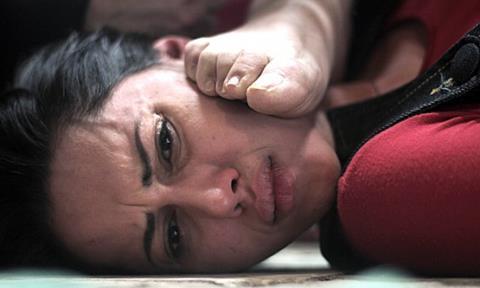 The slickly made Factory Girl (Fatat El Masnaa) may well have the melodramatic trappings of a soap opera tale, but underneath its story of love, longing, false accusations and recriminations there is nicely powerful story of a young woman aiming for an independence society is not keen to allow her, with the impressively feisty Yasmine Raees terrific in the lead role.
Yasmine Raees exudes charisma and passion in the lead role.
Veteran director Mohamed Khan (whose films include Supermarket and Dreams Of Hind And Camilia) is a sure hand and brings out the best from his largely female cast, with Wessam Soliman's script playful and blunt in equal measure and strong at dealing with the harsh results of when cruel rumour gets out of control. The film, which had its world premiere at DIFF, is likely to play at other festivals and has the dramatic highs to appeal to liberal-minded Middle Eastern distributors.
Vivacious Hiyam (Raees) is a young worker at a textile clothing factory where her fellow women workers are a verbal and noisy bunch, quick to make jokes and all taken by the arrival of new supervisor Salah (Mohammad Ali) who they regard as something of a hunk.
Hiyam is especially charmed by his brooding looks and wastes no time in gently – and rather ineptly at times – flirting with him. Hiyam gently forces her way into his life, even visiting the flat he shares with his mother and sister, and she starts to convince herself that they could have a relationship, despite the fact that she knows that she comes from a lower social cast. When they finally share a kiss she is in heaven, but it is then that her life starts to fall apart.
Her fellow workers start to think that she is acting strangely and when she is ill with stomach cramps at work the same time as a pregnancy test kit is discovered at the factory they put two-and-two together and conclude she has had sex with Salah. And when is late with her period her own mother accuses her of being pregnant, while at the same time Salah stops talking to her or returning her calls, eventually telling her they could never marry because of their divide in class.
Ostracised by all around her, she doesn't defend herself (even when her own grandmother brutally has her pinned down and cuts off her long hair) until finally it is revealed that she is still a virgin. In a delightful final scene she shows her independence by revealing her short hair and dancing vibrantly - and to the smiles of her co-workers – at Salah's wedding.
Yasmine Raees exudes charisma and passion in the lead role as a young woman who falls badly in love and yet won't let others dicatate how she should be viewed.
Production companies: MAD Distribution, DayDream Art
Sales contact: MAD Distribution, diff@mad-solutions.com
Producer: Mohamed Samir
Screenplay: Wessam Soliman
Cinematography: Mahmoud Lotfy
Editor: Dina Farouk
Music: George Kazazian
Main cast: , Hani Adel, Salwa Khatab, Mohammad Ali, Ibtihal Eleserety, Hanan Adel