Screen speaks with Eddie Mullins about his pre-apocalyptic comedy Doomsdays, which receives its world premiere at Fantasia.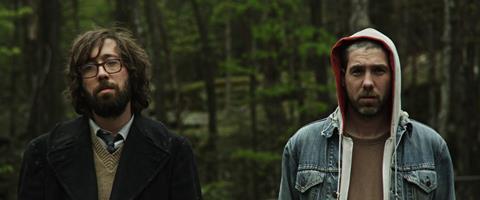 For film critic-turned-filmmaker Eddie Mullins, his feature debut Doomsdays was the culmination of a long-gestating intention.
"I'd been a critic for the better part of a decade, always with the intention of making films but never quite figuring out how," explains Mullins. "I directed some really trivial things for Showtime in the past, I did the usual route of student work but something on this scale had been totally beyond my experience."
Billed as a "pre-apocalyptic comedy", the irreverent and hugely entertaining Doomsdays – which receives its world premiere today [July 23] at Montreal's Fantasia International Film Festival – focuses on two guys who believe the world won't be around for much longer, and decide to spend whatever time remaining wandering around the Catskills breaking into vacation homes.
After Mullins lost his critic job at Blackbook, he started scripting Doomsdays and was influenced, among others, by Chris Smith's documentary Collapse. "I'd moved to the Catskills with my girlfriend and somehow this begat the story in ways I've only just started to process. I know all these people up here with homes and it was the classic how to make the use of the resources I had at hand."
First on board casting-wise was friend Justin Rice as the laidback Dirty Fred before fellow lead Leo Fitzpatrick joined as the perennially angry Bruho.
Helpfully, the cast were able to hole up in Rice's house for the shooting of the film, lending the film its strong sense of camaraderie and improvisational feel, despite being fully scripted – Brian Charles Johnson, who plays new recruit to Bruho and Dirty Fred's way of life Jaidon, describes it as "we took his words and put it in our bodies"
There was still the matter of finance though with the production starting without the full budget in place, something Mullins would not do on future films. One such method was the use of Kickstarter with the film reaching a $22,000, most of which went on the legal side of filmmaking.
"I hadn't done Kickstarter before but I still to this day think it was maybe more stressful than the production. Just a lot of sleepless nights, our graph was just a steady 45 degree angle," notes Mullins. The film's budget in total was $150,000.
One of the most notable aspects of Doomsdays is a lack of cuts in the edit, with scenes playing out in full often from one set-up. Mullins wanted to be "more of a director of the shot than the cut" which had an immediate benefit.
"This was something that made it easy for the production in terms of time, once we nailed a scene, we were done. There's only three match cuts in the film and two of them are axial cuts."
Aside from teaching him "patience and collaboration", was there anything else that Mullins learnt making Doomsdays that would come in handy for future projects? "The most obvious thing is I didn't know how to make a movie from start to finish.
"I had no doubts about the script, the casting, how I wanted it to look, but from production through post, there was a significant amount of being thrown into one steep learning curve after another. Just having the perspective to see the whole thing from above or from the benefit of 20/20 hindsight, that's really what I'd take away for me."
Despite being his feature debut, Doomsdays was Mullins' fourth script and next up is Shooting the Pilot, about a private investigator who's trying to make a reality show about himself but isn't a very good filmmaker. Mullins is still writing the film but has already run into his first issue.
"I pitched the project to my mum and I gave her the title first and she said 'oh, it's a plane movie'."
Doomsdays receives its world premiere today [July 23] at Fantasia before a second screening on July 28.