Ian Sandwell talks to RKSS about the journey of their genre festival hit Turbo Kid.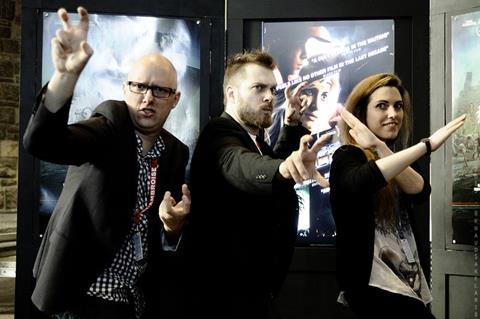 "Personally, I feel as nervous as the premiere at Sundance. It's the same feeling. It's intense and it's happy, but it's scary and all kinds of weird emotions," Yoann-Karl Whissell tells Screen when we meet him ahead of the Canadian premiere of Turbo Kid at Fantasia International Film Festival.
He needn't have worried. Last night [July 23] saw Turbo Kid come home to Fantasia in a huge way with not only consistent audience appreciation throughout, but a prolonged standing ovation for the film-makers RKSS (Anouk Whissell, François Simard and Yoann-Karl Whissell) from the sold-out crowd.
"The fact we came home to Fantasia is very symbolic for us because we've been going here since it started. We almost slept in the theatre because we were watching six films in a row," reflects Anouk Whissell, with Simard adding that "Fantasia was our film school".
Did the film-makers ever believe Turbo Kid would become such a genre hit when it was born at Fantasia's Frontières International Co-Production Market in 2012? "I think we just went with our hearts. We did the movie we wanted to do, but I don't think we expected it would screen so much and play so well," says Anouk Whissell.
Having premiered at Sundance, the immensely entertaining post-apocalyptic outing has gone on to play the likes of SXSW, BiFan, Edinburgh and BIFFF, with a screening still to come at Film4 FrightFest on Aug 27.
Every step leading up to Fantasia has been a "milestone" according to Anouk Whissell: "Like when we got financing or when we got casting confirmed, every step has been like 'oh, we're here now'."
Yoann-Karl Whissell expands: "We were filming and I was like 'I won't believe it until it's a wrap', and then suddenly you're sitting in a room at Sundance and your brain goes blank. Everything's surreal. You see the first picture and then the end credits are rolling, and you're like 'what happened?'"
"We did short films for ten years and we did try to make a feature before, but finally a door opened and then everything happened so fast. We never gave up, and we're glad that we kept the motivation and passion to do it," adds Simard.
Along with Turbo Kid's Canadian premiere, RKSS also participated in this year's edition of Frontières with Elora's Death Wish adapted - like Turbo Kid - from one of their own shorts. And the film-making trio can't ever see themselves making a feature without each other.
"We're having so much fun together, and it makes everything simpler," outlines Yoann-Karl Whissell. "We have each other's backs and I think if a producer would approach one of us, that person would then hire the other two. It's how we work and it's our strength."
Before the next project though comes the US release of Turbo Kid on Aug 28 through Epic Pictures Releasing, marking the beginning of the end of this cycle for RKSS.
"It's hard to just let it go, but now it's going into the world," concludes Yoann-Karl Whissell. "Our baby is an adolescent and now it's going to find a job and never call home."