Dir/scr: Dick Tuinder. Netherlands. 2014. 94mins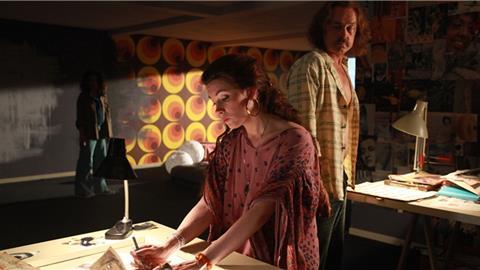 An engagingly lurid and amusing Dutch comedy, visual artist Dick Tuinder's 1970s set film Farewell To The Moon (Afscheid Van De Maan) is a coming-of-age story set against a backdrop of free-love, garish wallpaper, long hair and dungarees.
It is a tragicomic tale, packed with well-observed incident.
The film, which premiered at the Rotterdam Film Festival, is an engaging delve into a much derided era – bright swirling wallpaper, men with beards, women in pant suits etc – largely observed by 12 year-old Duch (Ward Jansen), who watches his family falling apart during the long hot summer of 1972.
Duch as two obsessions: the latest NASA launch to the moon and spying on his pretty next door neighbour Mary (Elise Schaap), an elegant but rather aloof former model who won't own up to her failing eyesight. But on the eighth floor of their new Dutch apartment block things are not going so well with Duch's family.
His father Bob (Marcel Hensema) prefers to hang out with the new neighbour Loes (Pauline Greidanus), who recently moved in two doors down, and when he and his wife Piet (Lotte Proot) go to a 'welcome' party at her flat it is clear her attitude to drugs and sex appeals to Bob, who promptly moves in with her.
Puit slowly starts to break down, trying to set her two children against their father and relying on the increasingly fragile Mary for company.
Tuinder, who filmed on location in the Zonneflat in Deventer - a block where he happened to grow up – makes great use of the bright summery 1970s colours (lots of yellows and green), and shoots Farewell To The Moon rather like a sit-com, with excellent production design and costumes helping set the tone. It is a tragicomic tale, packed with well-observed incident, though it works best when the performances are subtle rather then when played for more outlandish laughs.
Ward Jansen is appealing as the long-haired and mild Duch, and while the battles between his parents provide the drama the heart of the film – and actually the most interesting aspect – is his relationship with the oddly dysfunctional Mary, which is handled with care and a sweet sense of teenage longing.
Production company: Column Producties
International sales: Media Luna Entertainment, www.medialuna.biz
Producer: Gijs van de Westelaken
Cinematography: Guido van Gennep
Editor: Sander Vos
Music: Berend Dubbe
Main cast: Ward Jansen, Marcel Hensema, Lotte Proot, Pauline Greidanus, Elise Schaap, Dana Zelzer, Sterre van de Velde