Dir: Justin Lin. US. 2011. 130mins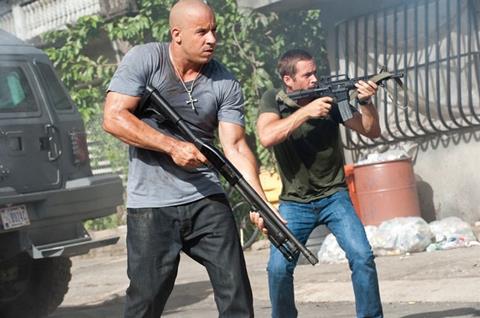 The Fast And Furious film franchise kicks into full-throttle with this latest instalment that aims to blend the expected petrol-head action with the heist movie genre. While noisy, sexy and suitably muscular, it is a hit and miss affair as super-cool car races make way for Oceans II style heist planning with mixed success.
Vin Diesel continues to bring a certain genial muscular charm to the series.
Series regulars Vin Diesel, Paul Walker and Jordana Brewster are back, and with Dwayne Johnson added to the mixture it amounts to a serious amount of testosterone up there on the big screen. The film opens in Australia and Europe prior to its US release (with the title Fast Five) on April 29, as is becoming an increasingly popular option for internationally successful franchise affairs.It is noisy and silly, but undemandingly entertaining, and likely to be a success, opening just before Thor and with few action films around as competiton.
The film opens with former cop Brian O'Conner (Walker) and his girlfriend Mia Toretto (Brewster) breaking his pal (and her brother) Dom Toretto (Vin Diesel) out of custody by crashing the prison bus he was being transported in. In truth it is hard to see how anyone could survive the crash they set-up…but then as we know from the previous films, Dom is nothing if not indestructible.
Before you know it they are all south of the border and heading down to Brazil, and quickly involved in a flashy train robbery to steal three valuable sports cars. This leads to a spectacular series of stunts and also the first plot twist as they find themselves being set up by businessman/drugs baron Reyes (Joaquim De Almeida).
Their train escapades put them on the radar of hard-nosed, bald-headed, federal agent Luke Hobbs (Johnson) and his team. But even as the threesome are tracked into the favellas of Rio de Janeiro, they are also being chased by Reyes' men. Backed into a corner they decide to try and pull off one last job that will make them millions and help them gain their freedom.
Cue the heist part of the film. Basing themselves in an empty factory (what movie heist team doesn't have a handy empty factory to work out of?) they gather their crew, made up of characters who have appeared in the early Fast And Furious movies, and start with those heist-planning scenes we know so well.
In between all of the robberies, gun-battles and fist-fights the film manages to squeeze in a brief trip to the underground Rio street racing scene – mainly an excuse for loving car close-ups and even more loving close-ups of sexy young women in ultra short-shorts) – but given this stuff was where the franchise originated from it is rather half-hearted to say the least.
All that is left is for the much-anticipated chrome-dome fistfight between Diesel and Johnson – to keep the bare-knuckle action fans happy – and the complex heist with a fairly obvious twist.
The film is punctuated with some choice action sequences, but is way too scattershot and disjointed to convince. At over two-hours it lacks real pacing, with the lengthy addition of the heist crew – the likes of Chris 'Ludacris' Bridges, Tyrese Gibson, Cal Gadot and Sung Kang (and others) – slowing things up far too much. Possibly worse still, the film is casually sexist, while according to its plot virtually everyone one on the Rio police force is corrupt.
Vin Diesel continues to bring a certain genial muscular charm to the series – though it takes a real leap of imagination to believe he could take Johnson in a hand-to-hand fight – and the relationship between him, Walker and Brewster at least feels convincing. Dwayne Johnson, as always, is a real screen charisma and helps give the film some much needed drive and energy, while Israeli actress Cal Gadot has a real sultry presence. This time round the cars – so often the real stars of the earlier films – are reduced to supporting roles.
F&F fans should note that the correct timeline of the films is: 1. The Fast And The Furious (2001); 2. 2 Fast 2 Furious (2003); 3. Fast & Furious (2009); 4. Fast & Furious 5 (or Fast Five if you live in the US) (2011); and 5. The Fast And The Furious: Tokyo Drift (2006).
Production companies: Dark Side Productions, Original Film
International distribution: Universal Pictures
Producer: Neal H Moritz, Michael Fottrell
Executive producers: Amanda Lewis, Samantha Vincent
Screenplay: Chris Morgan, based on characters created by Gary Scott Thompson
Cinematography: Stephen F Windon
Editors: Christian Wagner, Kelly Matsumoto, Fred Raskin
Production designer: Peter Wenham
Music: Brian Tyler
Website: www.fastfivemovie.com
Main cast: Vin Diesel, Paul Walker, Jordana Brewster, Dwayne Johnson, Elsa Pataky, Joaquim De Almeida, Chris 'Ludacris' Bridges, Tyrese Gibson, Elsa Pataky, Sung Kang, Gal Gadot, Matt Schulze, Tego Calderon, Don Omar