Ealing Metro will be tempting buyers in Berlin with British athletics drama Fast Girls, produced by Damian Jones, directed by Regan Hall, and described by star Noel Clarke as "Rocky with girls in lycra".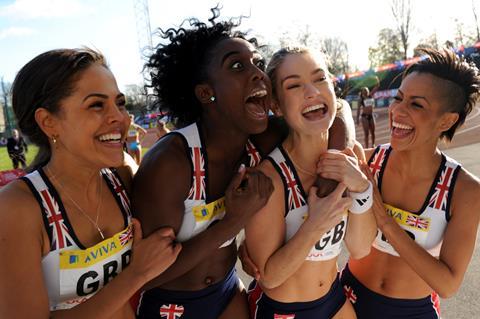 Fast Girls may be being pitched as Streetdance meets Bend It Like Beckham, but its star and co-writer Noel Clarke thinks its more "Rocky, with girls in lycra". A tempting tagline for any potential buyer.
Developed and produced by Damian Jones, Fast Girls centres on two girls competing in the same British sprint relay team, but from very different backgrounds, as they gear up for a fictional world athletics championships.
It is the feature debut of commercials director Regan Hall, who comes from the world of fashion and beauty commercials (he has just finished the latest Dolce & Gabbana perfume ad and has worked for companies including Swarovski and Burberry). But it was his short film, Iraqi war drama 3 Hours, which was Oscar qualifying this year, that attracted Jones attention. "He is definitely an independent film-maker but he has a great style, so it's the perfect combination," says Jones, who admits he has always been intrigued by the idea of making a film about athletes.
"These poor people, in all weathers, at every hour or the day, are out there training. The movie is trying to capture that aspect. What it takes to get to that point. All the discipline and the injuries," says Jones who came up with the title, and decided to take it from there.
After working with Noel Clarke on Kidulthood and Adulthood, he approached him to write the script for the film, along with Jay Basu and Roy Williams, securing the backing of the BFI who put up development funding for the £1.7m project, which is also backed by Prescience's Aegis. But it was only when the London bid for the 2012 Olympics was successful that the film became a reality.
Shooting took place November and December in London – locations included Lee Valley Athletics Track, Crystal Palace, the Tate Modern and various London estates and nightclubs. It was a tight shoot and it's going to be an even tighter post production process, as the film is due to be released in the UK on June 15 by StudioCanal, ahead of the Olympics.
"June is a scary release date for a film that [didn't] wrap until Christmas, but we will make it happen" laughs Jones.
Ironically, the film itself does not make any reference to the Olympics. Due to complications surrounding copyright, Jones took the decision to centre the story around a set of fictional championships instead. "It's an understandable minefield. And we are a small movie. So we said, let's make our life easier and create our own world, rather than pretending to be part of something we would probably never quite be able to pull off," explains Jones.
Still, StudioCanal will be making the most of the surge in interest in the world of athletics on the back of the Olympics. "There will be huge public interest and it's a great story about someone coming from the wrong side of the tracks, it's an underdog story and it's really uplifting," says StudioCanal's CEO Danny Perkins.
"Damian has got a great track record of making films that really connect with the youth culture, we've wanted to work with him for a long time and Regan is a really talented young director" he adds.
The film stars British newcomer Lenora Circhlow in the lead alongside Lashana Lynch, Dominique Tipper, Hannah Frankson, Lily James, Bradley James, Lorraine Burroughs, Phil Davis, Rupert Graves and Noel Clarke as the girls' coach.
It's the first British film to have a mixed race girl as its central character, but not only that, five out of the six lead girls are black or mixed race. "Rest assured, that has never been done in this country," says Clarke, who is becoming something of a champion for strong female characters, following his own film 4.3.2.1, and now this.
"I was raised by my mother, I have always had a respect from a young age for girls. I love strong, kick ass women. And I don't think there are enough of those in film," says Clarke.
Jones is also gaining a reputation as being a champion of strong women, in front and behind the camera– his last film, after all, was The Iron Lady, whilst his next project is Belle, which follows a mixed race girl adopted into an aristocratic family in the 1780s, to be directed by Amma Asante. He is also producing Ascension Eagles, with Big Talk, about a young woman from Texas who sets about transforming a group of disgruntled local kids in East London into an elite cheerleading squad. The script has been written by Daisy Donovan and is going out to directors shortly.
For Hall, one of the biggest challenges on Fast Girls has been the UK weather. "Trying to do a summer sports movie in the winter is a challenge. The logistics of having 40 girls running round a track in 5 degree temperatures and skimpy clothes has probably been our biggest hurdle," laughs New Zealand born, UK based Hall, who admits that he himself is not very sporty. "I'm a guy for whom the most sporting activity is lifting a coffee." But luckily the lead actresses took to the intensive training sessions – with real Olympic athletes - more easily. "It's been a hard core work out for them, but seeing them when the cameras are not turned on, doing sit ups, it's pretty impressive."
Jones and Clark may be known for Adulthood and Kidulthood, but Fast Girls is a very different film. "It's not girls from the hood, it has a feel good aesthetic factor, it's sleek and it has a great commercial tone," says Jones.
Back to Berlin and Will Machin of Ealing Metro is gearing up to show footage to potential buyers. "It looks fantastic and has all the energy and excitement we were hoping for. We responded to the high concept commercial premise of the film and immediately thought that there could be a global teen audience for it. This coupled with the world looking towards Britain and the Olympics this summer makes it feel current, cool and timely."