Dir: Regan Hall. UK. 2012. 91mins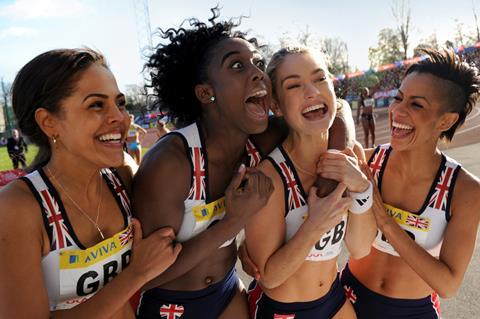 British girl-power athletics film Fast Girls has the feel-good factor to appeal to local audiences feeling the draw of the London Olympics bandwagon, and with its strong performances, uplifting story and sense of style should also appeal to distributors looking for healthy film fare that can appeal to all generations.
Fast Girls is at its best when dwelling on the 'girl power' aspect of the story, and the foursome who make up the core of the relay team.
The film, which opens in the UK in mid-June and has its market premiere in Cannes, should also draw attention to two main leads Lenora Crichlow and Lily James, whose youth, grace and sassy sexiness are a publicist's dream. Story-wise the film offers no real surprises, but in his feature debut director Regan Hall keeps the film breezy, glossy and engagingly appealing.
The fact that it hits the UK screens just before the London 2012 Olympics will certainly help in terms of promotional work, but key to its appeal is the dynamism of the young cast who play the athletes determined to make the grade combined with an admirable feel-good agenda that focuses on dedication, determination and teamwork.
The film is essentially based around 22 year-old Shania Edwards (Crichlow), a raw athletics talent from a London council estate, who with the aid of her grumpy part time coach Brian (a nice performance from Phil Davis) qualifies for the World Championships in the 200 metres, narrowly beating her arch-rival Lisa Temple (James) who has already qualified for the event.
Shania is also asked to join the British relay team by Coach Tommy Southern (Noel Clarke, who also co-scripted the film), and despite her misgivings (she claims not to work well with others) she joins veteran sprinter Trix Warren (Lorraine Burroughs) and feisty hurdler Belle Newman (Lashana Lynch). But rich girl Lisa is livid that her sprint rival is on the team and the pair constantly bicker, exasperated by the fact Lisa's father David (Rupert Graves), a former Olympic gold medallist, is heavily involved with the national athletics team.
After their first race as a team at an indoor event in Barcelona goes badly, Shania quits the team and is determined to practice by herself away from the others. But when Belle instigates a girls night out at London clubs the four get together again, friendships are confirmed and Shania even gets on relatively well with Lisa.
When the World Championships finally come round there is room for plenty more drama as Shania and Lisa face off in the 200 metres final, before an injury to one of the relay runners means that Shania reluctantly returns to the fold and she and Lisa have to find a way of working as a team if there is to be any chance of gold medal glory.
Fast Girls is at its best when dwelling on the 'girl power' aspect of the story, and the foursome who make up the core of the relay team – along with dancer Dominque Tipper and British under-23 triple jump champion Hannah Frankson who plays the reserve team members – are the dynamic and charismatic heart of the film, and their banter and interplay is what gives the film its vibrancy and momentum.
The story arc is relatively straightforward and the 'regular girl from housing estate vs rich kid' plot familiar (though oddly the house Lisa lives is in is relatively modest, with the real dynamic coming from the fact she is trying to achieve to impress her successful father), and while there is a relatively low-key romance angle as Shania falls for good-looking team physiotherapist Carl (Bradley James, form UK TV series Merlin) that plot device doesn't have much screen impact compared to the relationship between the runners.
The real finds are Lenora Crichlow and Lily James. Crichlow has been a regular on UK TV in series such as Sugar Rush and most recently the successful series Being Human, and while she had a small role in 2006 British horror film Wilderness, Fast Girls very much marks her breakthrough as lead actress in a theatrical film. She is a dynamic and charismatic personality and impressive as the determined young runner who has to learn how to be part of a team. Lily James featured in TV series Secret Diary Of A Call Girl and had a small role in Wrath Of The Titans, and in Fast Girls works extremely well – and looks the part – as a young runner struggling to live up to demands from her father.
Lorraine Burroughs and Lashana Lynch offer dynamic and charming support, while Noel Clarke smartly writes himself some great lines as the genial coach caught between a strident team of runners and the politics of the GB team organisers. While the film is relatively modestly budgeted, Regan Hall shoots with a good deal of style, makes great use of the London locations and does a great job in filming the race scenes which have a real sense of pace, energy and passion.
Production companies: StudioCanal, DJ Films, Aegis Film Fund, BFI
International sales: Ealing Metro, www.ealingmetro.com
Producer: Damian Jones
Executive producers: Danny Perkins, Jenny Borgars, Paul Brett, Graeme Law
Screenplay: Noel Clarke, Jay Basu, Roy Williams
Cinematography: John Lynch
Editor: Lewis Albrow
Music: Richard Canavan
Website: www.fastgirlsthemovie.co.uk
Main cast: Lenora Crichlow, Lily James, Bradley James, Noel Clarke, Lorraine Burroughs, Phil Davis, Rupert Graves, Lashana Lynch, Dominique Tipper, Hannah Frankson