Dir. Alexander Sokurov. Russia. 2011. 134mins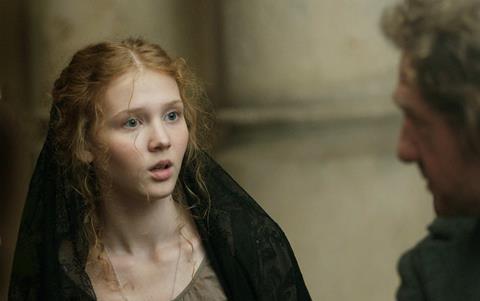 Like the first three parts of Alexander Sokurov's tetralogy - and for that matter most of his work - this film demands a visceral response. No use trying to apply conventional criteria to unravel its mysteries and those who insist will most likely walk out of the cinema very quickly, as some did at its Venice premiere. Unlike his previous portraits dedicated to men of power who ended in defeat - the previous chapters dealt with Hitler, Lenin and Hirohito - Sokurov chose this time a fictional figure, one of the best known in Western literature, and one, for him, even more threatening than the other three he dealt with before.
If you're swept over by Sokurov's imagery, it's an experience, if not, better stay away.
There isn't much point in retelling the story of Faust and in any case, as Sokurov himself points out, this isn't exactly an adaptation of Goethe's play but rather an attempt to read between the lines of the original and find a different interpretation of it. And if Goethe's lines are in German, everything written in between should be in German as well, which explains the language used by Sokurov for the dialogue
This matters more than usual, for in this case, it will ease the way of German audiences into it, but anywhere else, a solid, concise and intelligent adaptation of the dialogues into subtitles will be essential, which was not the case in Venice.
As if to stress the dangers lurking in the human mind, which need neither splendor nor vast spaces to blossom, Faust's hellish cabinet, where he cuts corpses to pieces to study the human body and at the same time cater to his patients is cramped and filthy. Not even five minutes go by before he launches head on, despite all the dust and dirt, into such weighty matters as life and death, God and the Devil or the non-existent essence of the soul, while Bruno Delbonnel's camera keeps ceaselessly moving in all directions, switching angles constantly as a multitude of characters push each other in and out of the frame, filling up every inch of space on it.
In Sokourov's version, Faust (Johannes Zeiler) is the ultimate nihilist who rejects any earthly, divine or even diabolic authority; Mephisto (a virtuoso performance by Anton Adasinskiy) is a freakish moneylender who looks and moves like a grotesque imitation of a goat (which is only fitting for the Devil); Margarethe (Isolda Dychauk) has amazingly innocent, pure facial features and yet manages to look sometimes surprisingly malicious, while Faust's assistant, Wagner (Georg Friedrich) is scheming, envious and vengeful.
Passion and love are banished in favour of lust and greed, money being the answer for every query or wish. The ending suggests Faust not only satisfied his sexual desires but also got rid of any possible obligations he might have incurred signing the famous contract, which he tears to pieces anyway before going out into the cold world, and if he is doomed to roam through it all alone for eternity, it does not alleviate even one ounce of the danger he represents.
All this, and much more, is in the film but given its nightmarish restlessness, its dark expressionist images and a suggestive post-romantic score, only careful and patient perusal will deliver Sokurov's secrets. Certain moments, like Faust courting Margarethe whose expression in a huge, gradually discoloring close-up, are breathtaking, others, like the vast frozen spaces that Faust is facing at the end, truly scary, while the rest… if you're swept over by Sokurov's imagery, it's an experience, if not, better stay away.

Production companies: Proline Film Production
International Sales: Films Boutique, www.filmsboutique.com
Producers: Andrey Sigle
Screenplay: Alexander Sokurov, Marina Koreneva, from a story by Yuri Arabov
Cinematography: Bruno Delbonnel
Editor: Jorg Hauschild
Production designeer: Elena Zhukova
Music: Andrey Sigle
Main cast: Johannes Zeiler, Anton Adasinskiy, Isolda Dychauk, Georg Friedrich, Hanna Schygulla, Antje Lewald