Shooting is currently underway on Raw Productions' Bulla, a British mockumentary feature based around comedian Ricky Grover's East End gangster character, which began life on UK television series The 11 O'Clock Show.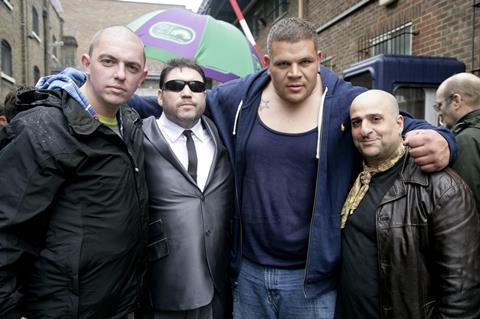 BULLA
Synopsis: An East End gangster is released from prison after 16 years and hooks up with an American documentary film crew who capture his first few days of freedom.
Director: Steve Lawson
Writer: Ricky Grover
Producers: Paul Silver and Ben Shilito for production company Raw Productions, which is based out of Elstree Studios
Cast: Ricky Grover, Omid Djalili, Peter Capaldi, Steven Berkoff, Rufus Hound, Derek Acorah, Geoff Bell, Roland Manookian
Budget: Under $1.5m (£1m)
Financing: 6 independent private investors, together with the EIS scheme and UK tax credit.
Language: English (although may require subtitles due to cockney rhyming slang!)
Countries of Production: UK
Status: Shooting at various locations around London as well as Elstree and Three Mills studios from June 1-24.
Release date: 2011
About the project: The creation of British comedian Ricky Glover, East End gangster/social commentator Bulla started life as a guest character on UK television comedy programme The 11 O'Clock Show (which launched the careers of Ricky Gervais and Sasha Baron Cohen) in the late 90s.
"My step father was an armed robber, and I was brought up with people like Bulla who ended up on the wrong side of the fence, really nice people who believe it or not have a lot of principals and morals about what they do," explains Grover, who felt that the character had the potential to work within a feature length format and began developing the script in 2003.
"People had always said to me, you've got to do something with the character and so it kind of happened naturally," says Grover, who almost teamed up with Universal Studios on the project seven years ago, but said no "because I was worried about having the reigns taken away from me, and I wanted it to be something edgy and real."
Grover and director Lawson met on the set of Lawson's Dead Cert which shot last year and is due to be released by Momentum in the UK in the autumn, and the pair hit it off.
"I like him. He's an Essex boy and I'm an East End geezer. We are the only people in our family doing anything like this, We are kind of misfits in the film industry," says Grover.
Bulla is Lawson's third feature following Just For The Record, which was released by Metrodome in May 2010, and Dead Cert. "I only got into the film industry two years ago," explains Lawson, who comes from a business background, and who set up his production company Regency Films in May 2009, before changing the name to Raw Productions (aptly named after a cockney word for cigarette) after a clash with US company Regency Enterprises, in November. He now runs the company with Grover and Dexter Fletcher.
"I had watched Bulla on The 11 O'Clock Show and thought he was really funny," says Lawson, who cites Matthew Vaughn and George Lucas as two of his film-making heroes. "So it was a case of working with Ricky to develop the story and put it into film format rather than television."
Lawson brought in British producer Paul Silver, who has been based out in LA for the last 12 years and admits to being initially apprehensive about shooting on home soil again. "I'm used to the very rigid studio and union way of doing things, and I'm also used to the low budget independent way. England kind of fits somewhere in between," explains Silver, who is co-producing with Ben Shilitoe, who is part of the Raw Productions team.
"I'm really impressed with the skill level in London. In LA, people either work on big budgets or independents, features or TV. Here, because there is less film work overall, you will get people who have done John Carter of Mars and then a tiny little movie right after. So you have a real mix of skills which can be really useful for this sort of low budget film-making," he says.
Despite the central character being an east end bank robber, Bulla is not just another British gangster film, says Silver. "Lock, Stock created the new British gangster and people watch it and think that is what British gangsters are like. It's trying not to play into those conventions. To me this is a film about family – even if the film isn't about your mum and your dad. It's about the people who care about you and stand by you and respect you."
The film has shot in various locations across London as well as two days at Elstree Studios in Hertfordshire (just outside London), where Raw Productions has its permanent office.
"When people come for meetings, it gives the project legitimacy. Being based at a studio also gives you access to more resources and we've been able to expand into more offices during the production. Plus Elstree has a bar," laughs Silver.
With a cast including British actors of the moment Omid Djalili and Peter Capaldi, Lawson says that the film is a mainstream comedy, but that it may also ruffle a few conservative feathers. "I don't think you've seen comedy like this unless you've seen Bulla, although there are elements of Spinal Tap in there."
Grover, meanwhile, is full of praise for the director. "Steve is a massive talent and everyone is talking about him. He is really good at working with actors and getting the best out of them. You wouldn't get such top actors on board if they didn't believe in the project."
Next up: The team at Raw Productions are currently developing Once Upon A Time In London, a gangland thriller based loosely around the death of Princess Diana, penned by David Wickes, who wrote the TV series Minder