British director Terence Davies is in post on his first fiction feature in 10 years.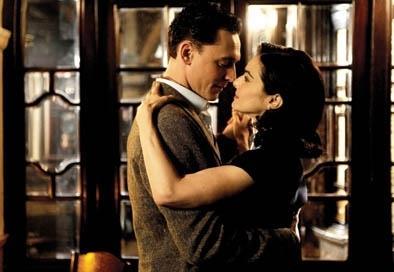 Synopsis: A feature adaptation of Terence Rattigan's play of the same name, set in the 1950s, about a woman who leaves her husband and life of conventionality to move into a bedsit with her lover, an ex RAF pilot.
Director: Terence Davies
Writer: Terence Davies, based on Terence Rattigan's 1952 play
Producers: Sean O'Connor and Kate Ogborn
Cast: Rachel Weisz, Simon Russell Beale, Tom Hiddleston
Budget: $3.7m (£2.4m)
Financing: UK Film Council, Film4, Lipsync Productions, Protagonist Pictures, Fulcrum Media Finance and Artificial Eye
International sales: Protagonist Pictures
Distributors: Artificial Eye (UK), Front Row (Middle East), Lev/Shani (Israel), Ozen (Turkey), Studio Solutions (Taiwan)
Country of production: UK
Filming locations: Shooting took place for five weeks (from November 17) in and around London and at Three Mills Studios
Status: Post production
Release date: Promo trailer to be shown at Berlin, aiming for either Venice or Toronto. Artifical Eye will release in the UK autumn/winter 2011
Currently in post production, The Deep Blue Sea marks a return to fiction film making for British director Terence Davies after 10 years.
So how did it feel being back in the director's chair? "Oh gosh, it was wonderful," says Davies, who made the documentary Of Time And The City in 2008, but whose last fiction film was the 2000 period drama House Of Mirth. "I was terrified, because I haven't done it for 10 years, but I can tell you, it has revived my soul."
Based on Terence Rattigan's 1952 play of the same name, The Deep Blue Sea tells the story of Hester (played by Rachel Weisz) who leaves her high court judge husband (Simon Russell Beale) to move into a bedsit with her lover, an ex RAF pilot (Tom Hiddleston).
The idea for the feature adaptation originated with producer Sean O'Connor, who wanted to do something to honour theatre director Frith Banbury, who directed the first production of the Rattigan play in 1952 and who died in 2008.
When it came to choosing a director, O'Connor immediately thought of Davies.
"Terence was the obvious person, because women and the 50s are his great themes. And Distant Voices, Still Lives is one of my all time favourite movies. So I contacted him and we had lunch and he responded to the material immediately."
This is not the first feature version of the play – it was first adapted for the screen in 1955 with Vivien Leigh and Kenneth More, but both Davies and O'Connor agree that the film was disappointing. "It was very overblown, so we knew what the pitfalls would be approaching it," says O'Connor.
So how did Davies approach writing the script for the feature, which shot on location in London and at Three Mills Studios, for 25 days? "I decided that it had to be told from Hester's point of view. And I knew that I had to use the Barber violin concerto. Once I know what the opening images and the music are, then I'm alright," says the director, who also stripped back much of the theatrical dialogue and exposition of the play to make it more cinematic.
The $3.7m (£2.4m) project is being backed by the UKFC, Film 4 and LipSync post production, along with Protagonist who are handling international sales and Artificial Eye who have UK rights – all of which came together remarkably smoothly, says Kate Ogborn, the film's other producer, who boarded the project after "reading the script in one night and thinking, 'I've just got to do this.'"
"It was a joy to finance," says Ogborn. "Because people either said yes we love it, or people didn't get it. It was just very clear cut. And Sean and I put together who we thought would be the right group of financiers for it, and for Terence, because this film is part of his rebirth."
Rachel Weisz was always the first choice for the role of Hester. "I said to her, if you say no, I don't know who to ask. I said the same thing to Simon Russell Beale. Fortunately, they said yes," says Davies.
Casting the part of Hester's lover was slightlier trickier. "You've got to understand why she would give up everything for him, explains Ogborn. "Tom [Hiddleston] just got it. He is a very clever and charismatic actor who has a great future ahead of him."
It may be set in the '50s, but, says O'Connor, The Deep Blue Sea has modern-day appeal. "What Terence has done is honed it into a very powerful, simple story about sex and love and why we make big decisions – why we choose to kill ourselves or stay alive, why we fall in love with particular people. It's about the death of a relationship, and everyone has had one of those."
Meanwhile Davies is particularly proud of the film's British roots. "This is a story about Britain, it's not from anywhere else. If we don't make films that arise solely from our islands, they will always be forever sub American. I'm not anti American, but we should look to our own country for stories. We have stories to tell that are as valid as anybody else's."