Spanish auteur Pedro Almodovar reunites with his Tie Me Up, Tie Me Down star Antonio Banderas in this hotly anticipated thriller, currently in post.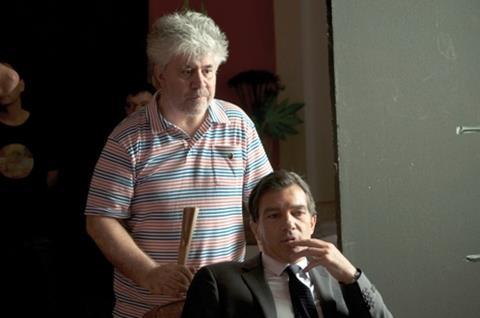 Synopsis: Based loosely on the Thierry Jonquet novel Mygale, the film tells the story of an eminent plastic surgeon who becomes obsessed with creating new skin, following the death of his wife who was burnt in a car crash, taking his experiments to frightening levels.
Director: Pedro Almodovar
Writers: Pedro Almodovar (inspired by Thierry Jonquet's novel Mygale)
Producers: Agustin Almodovar (executive producer), Esther Garcia
Cast: Antonio Banderas, Elena Anaya, Marisa Paredes, Blanca Suarez, Fernando Cayo, Jan Cornet, Roberto Alamo, Barbara Lennie
Financing: ICAA national subsidies, Galicia funds, TVE, Canal Plus, pre-sales.
Language: Spanish
Countries of Production: Spain
Status: Post production
Release date: September 2011
Next up: Almodavar's next project will be a biopic film feature called Mina, based on a novel by Paolo Limiti, about the life of successful Italian singer Mina who courted controversy by having a son with a married man, before withdrawing from public appearances in the late 1970s.
Pedro Almodovar's name alone is enough to draw huge interest in his projects both in Spain and internationally, and the news that he has re-teamed with his old muse and international star Antonio Banderas, has added an extra level of anticipation.
Based "loosely" on Thierry Jonquet's dark novel Mygale, the film tells the story of a plastic surgeon who becomes dangerously obsessed with creating new skin, following the death of his wife who was burnt in a car crash.
"It's a story of revenge, but also about the capacity and resistance of the human being," says Agustin Almodovar, executive producer of the film, and co-partner with his brother at Madrid based outfit El Deseo. "Pedro was very taken with the novel and so bought the rights to it about 10 years ago, but wanted to put his own stamp on the movie."
As with all of their films, the Almodovar brothers want to keep an air of secrecy about the full plot details of their latest project ahead of its release. In the book, there are four interesting strands, there's the plastic surgeon's troubled relationship with his wife, whom he pimps out to other men, there's his relationship with his daughter who is institutionalized after a mental breakdown, there's the story of Vincent Moreau captured and imprisoned by a madman, and finally a petty thug called Alex who finds it hard to escape after a bank robbery.
"We have shifted the story so it is closer to the personal universe of Pedro. I think people who know the book will be pleasantly surprised by the changes Pedro has made," says Agustin.
Pedro Almodovar is currently hard at work in the editing suite putting the final touches on the film, but tore himself away briefly to say: "Now, having seen the film I believe it is an intense drama that at times looks like a film noir, at other times like a science fiction film, and also like a terror."
In terms of cast, Banderas was always the Almodovar brothers' first choice to play the plastic surgeon and the actor was really impressed by the novel when they sent it to him. However, their initial thoughts of teaming him up with another of Pedro's favourite muses, Penelope Cruz, proved impossible.
"We had thought originally of Penelope, having worked with her on Volver and Broken Embraces, but as you will see in the film, the female lead is meant to be a girl of less than 20 and while of course she doesn't look her age, Penelope can't really still play a girl of 16 as required by the film," says Agustin.
Instead, they drafted in a host of other familiar Spanish faces, like Fernando Cayo, Marisa Paredes and Elena Anaya, alongside younger new talent, such as Blanca Suarez, Jan Cornet and Barbara Lennie.
The total budget for the film is $13m (€10m), which has mostly come from pre-sales through FilmNation, who have already sold the film to most territories, with long time Almodovar collaborators Sony Pictures Classics and Warner Bros taking North American and Spanish rights, respectively.
The film has also been pre-bought for local television by TVE and Canal Plus, and El Deseo has accessed the national subsidies from ICAA (Spain's government backed film institute), and money from the Galician government because the film shot in the region.
Speaking of their experiences filming in Galicia, Agustin says it was a great place to shoot, but that it was a very intense set. "We shot for 14 weeks, which is a long time, and it was interesting getting to know and work with Antonio again after 10 years. But it was very psychological putting it together piece by piece, the story is very subtle."
El Deseo plan to have the film completed by March with the intention of releasing it in cinemas from September. They wouldn't be drawn on whether it will premiere at Cannes, but that is where most of his previous films have featured.