An unprecedented five Emirati feature films are screening at DIFF this year as the UAE's fledgling film scene goes from strength to strength.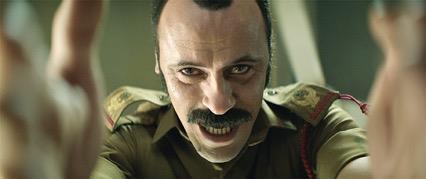 From the UAE's first genre picture, the thriller Rattle The Cage (Zinzana), to short documentary Omnia, which explores the subject of female genital mutilation in the Middle East, Emirati film-makers are out in force at this year's festival. Five local features and a further seven shorts, as well as a handful of documentaries are screening.
The 12-year-old festival has grown hand-in-hand with the Emirati film scene - some say it is too soon to call it an industry. "We've achieved a lot in a short time and the amount of film activity today is astonishing, but we do not have a film industry yet," says Nawaf Al Janahi, director of one of the UAE's first feature films, 2009's The Circle. "Using such a term would be inaccurate and misleading. We've produced around 25 features to date - some are well made, some are not - but it's not about numbers or names, it's about building a lasting foundation for an industry that can sustain itself and grow. This takes time and effort."
Others are more bullish. "We have crossed a critical line from an emerging industry to the early stages of an industry," says Michael Garin, CEO of Image Nation, the film and TV production company created by the government-backed Abu Dhabi Media Company to help build an audiovisual industry in the UAE.
Much of the company's work until now, he says, has been about nurturing and mentoring Emirati film-making talent from scratch. "Money is not the scarce commodity here," Garin points out. "Experience and mentors are what are lacking. There is a rich tradition of oral storytelling in the UAE but no tradition of visual storytelling."
Dedicated effort
Image Nation organises internships, sends promising directors to institutions such NYU's Tisch School of the Arts in New York, organises placements for young Emiratis on the sets of the increasing number of international productions passing through the UAE and even sets up one-on-one script-doctor sessions with experts in Los Angeles.
"We've touched some 350 people," says Garin. "It has been five years of dedicated effort and we're beginning to see the results. For the very first time, I can look a recent university graduate in the eye and encourage them to join this industry in the knowledge it will give them the same economic rewards as a job with the government or other parts of the private sector."
One such film-maker who took this leap of faith is Majid Al Ansari, director of Rattle The Cage. He believes the country's industry is moving in the right direction. Well, his family does at least. "When I first started trying to break into film, my family were like, 'What are you doing? Why don't you become a doctor or a lawyer?'," says Al Ansari. They don¹t ask him that question any more.
A turning point came when he took his mother to see Ali Mostafa's City Of Light at the Mall of the Emirates during the 2009 edition of DIFF. "As we went up the famous escalator, she kept saying, 'Why don't we watch an American film? Arab films are no good'," he remembers. "I was really nervous the whole way through. When the lights came up, she had tears in her eyes. She turned to me and said, 'So when am I going to see your name up there?'"
It is six years later and now she will. Al Ansari's debut feature Rattle The Cage received its UAE premiere on Thursday (December 10), having already played at the BFI London Film Festival and the Fantastic Fest in Austin.
The real game-changer for Al Ansari, however, was securing an internship at Image Nation. Spotting his potential, the company employed Al Ansari on the business side, giving him a grounding in the mechanics of the film business and the time to read scripts.
It was at Image Nation he came across the screenplay for Rattle The Cage, by US writing duo Lane and Ruckus Skye. He was captivated by the prison-set psychological thriller, originally set in the US.
"I thought if we could do this in Arabic and in the region, this would be a kick-ass film," says Al Ansari. "This is what we did, working for four months on and off with the writers, via e-mail and Skype."
With the support of Image Nation producer Rami Yasin and head of narrative Ben Ross, Al Ansari found himself on a set in Jordan a few months later, directing Palestinian stars Saleh Bakri (Salvo, When I Saw You) and Ali Suliman, who won the best actor prize at DIFF in 2011 for his performance in The Last Friday. "In the beginning it was very intimidating but everyone was very collaborative," says Al Ansari.
City Of Light director Mostafa says the strategy of taking genres usually associated with the US and adapting them to the region is a step in the right direction for local film-makers.
"Taking these genre films and 'Arab-ising' them is a cool move," he says. "The local market is used to watching studio films and genre films in the English language; now we're trying to make our own genre films that are of a high calibre in Arabic. That¹s something so fresh and new. I¹m curious to see how Rattle The Cage does."
Mostafa is in the throes of post-production of The Worthy, his third feature following City Of Light and last year's pan-Arab road movie From A To B, which also screened in London.
"It's a post-apocalyptic, Arabic-language action thriller so completely different from what I've done in the past," the director says of The Worthy.
Al Janahi, whose second film Sea Shadow was also backed by Image Nation, believes more producers and additional sources of private finance are needed.
"I'm very optimistic about the next 10 years," he says. "If the private sector gets into film production soon, we could see a solid self-sustaining film industry established in half that time."
Emirati films at DIFF
Leading the Emirati charge at DIFF is Majid Al Ansari's psychological - and brutal - thriller Rattle The Cage (Zinzana). It co-stars Palestinian actor Saleh Bakri as a man imprisoned for drunken and disorderly behaviour, who finds himself in the clutches of a sadistic police office played by Ali Suliman.
Saeed Salmeen Al Murry's Going To Heaven is about an 11-year-old boy with a cruel stepmother, who sets off across the UAE in search of his dead grandmother. It is Al Murry's first feature after the short Bint Mariam, about a girl forced to marry a man many years her senior. It won the Muhr Emirati Competition in 2008.
Further Emirati features here include Humaid Al Suwaidi's Abdullah, about a young man's struggle to become a classical musician in the face of opposition from his religious family; Abdulla Al Kaabi's Only Men Go To The Grave, which is a mystery about a blind widow; and Nasser Aldhaheri's documentary feature A Tale Of Water, Palm Trees And Family, a look at the UAE's land, people and culture.
In the short film selection, Aisha Al Zaabi, whose film The Other Dimension won at DIFF in 2014, returns with My Dear Home With Love, about a nine-year-old girl reeling from the shock of a move away from her childhood home, who embarks on a dangerous journey in search of a friend she left behind.
Sarra Alshehhi's Open Wounds is about a girl who learns how to box in order to exact revenge on an abusive uncle, and Abdulrahman Al Madani¹s Beshkara is the story of a Filipina maid who is desperate to return home on discovering she is terminally ill but is barred from doing so by her UAE employer.