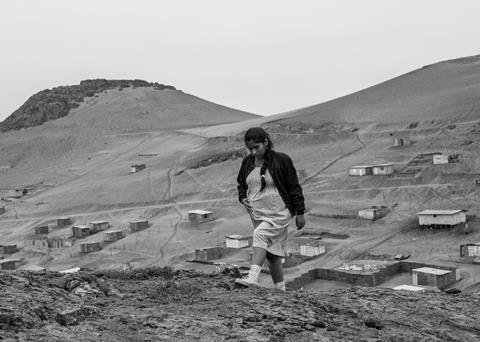 Melina Leon's feature directorial debut Song Without A Name (Canción Sin Nombre) screens in Directors' Fortnight and is the first film by a female Peruvian director to play in Cannes.
Newcomer and activist Pamela Mendoza plays Georgina, an Andean woman whose baby is stolen at a fake clinic in the late 1980s. The story takes place against the backdrop of the government's fight against the Shining Path guerrilla group.
La Vida Misma Films produced Song Without A Name, and MGC, La Mula Producciones, and Bord Cadre Films are the co-production partners on the Peru-Spain-USA drama. Luxbox handles world sales.
What made you want to tell this story about human trafficking and are people aware of this history?
"This happened in 1981 [the spate of baby thefts] and of course human trafficking continues to happen all over the world. It's still with us. I was too young to remember 1981, so I moved the story to 1988. At that time we had the worst political and economic circumstances. There were hundreds of them who were stolen and sold in Europe. One of them, Celine Giraud, came back and she's French. She called my father 25 years or more after these events – my father was a journalist and had written about these stories. The adoptive parents knew she had a Peruvian mother. She only had the name of her mother and she went back to Peru with her husband and they found her biological mother, who told them the real story. She showed them the newspapers. Celine is starting a foundation to try to reconnect people. The whole trafficking scheme was carried out by the mafia with the complicity of Peruvian judges.
How did you fund this?
"It took me forever to fundraise. It started in New York when I wrote the first version with my friend Mike White. We wrote it when we finished school our [film] studies at Columbia University. There was some interest from a friend in New York to produce it. It wasn't working so I moved back to Peru in 2013 and applied for funds. We got a grant from the ministry of culture's DAFO division in 2014. Then we got support from Ibermedia and ICAA [Spain], funds from the US [Jerome Foundation] and some equity. And we did a Kickstarter campaign."
When did you shoot?
"We were supposed to shoot in 2016 until my producer and director of photography Inti Briones said it needed to be in the winter. We'd been ready to shoot in October but we were getting sunny says, so we waited until the following year and in the meantime we got the support of a production company in Peru [La Mula], who provided offices and then they invested some funds. We shot in Lima and the jungle in June and July 2017. The only the shots in the jungle in Iquitos were sunny, because it's always sunny there. We ran out of money and I edited it myself and we got into Ventana Sur in December 2018 and got many offers [for sales representation] and decided to go with Luxbox."
You show the Shining Path briefly in the film. What was their relationship to impoverished indigenous people?
"The peasants were stuck in the middle: The Shining Path were trying to liberate them, but if they didn't agree, they were shot. The Army was trying to help them and would shoot them if they didn't provide information. So many of them fled their villages to live in shacks in Lima. New recruits were indoctrinated and told to turn their backs on their communities. I interviewed some former Shining Path guerillas. We didn't want to focus on that – we wanted it to be a surprise [when the guerrillas appears in Georgina's community], just as Georgina was surprised."
How did you find Pamela Mendoza?
"I went to this model village on the outskirts of Lima that was founded in the 1970s and the director of a theatre group introduced me. I was afraid she was too skinny for Georgina, because Georgina was pregnant, but she put on 17 kilos [37 lbs] to play the part."
What is the film support infrastructure like in Peru nowadays?
"There's been a big change in Peru in the past 18 years. We have to give credit to the director of DAFO, who has managed to get more funds for filmmakers, and the future is looking better. Last week Congress approved a law that will give more support to filmmakers – in particular those who are not from Lima. It's slow, but it's not as slow as it was in the 1980s and 1990s."
How do you feel as the first female Peruvian director to have a film in Cannes?
"It's a great honour. It's been a lot of work but it's been worth it. It's overwhelming."